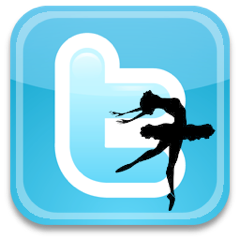 It's been over 6 months since we wrote a post about how social media had the potential to "turn the ballet microcosm into an universe", to make it expand beyond its captive audience and hopefully reach out to those who still believe ballet is old fashioned and all about girls in tutus & tiaras; men in tights.
So how have things evolved within this relatively short period? Many ballet companies which were not very active in social media have now embraced it. One example is The Royal Danish Ballet, now on Facebook and also tweeting – albeit in Danish. Some of the "headstarters" mentioned in our original post have also furthered their social media presence: ABT has finally joined Twitter and San Francisco Ballet continues to put out innovative content and provide audiences with a great online experience, supported by their well designed website. For evidence take a look at the trailer for their new ballet season and their video profiles of dancers.
Other dance companies have stayed in their comfort zones and not bothered to do much: the Bolshoi are still nowhere near web 2.0 (ie. the new era of information sharing), ditto Paris Opera Ballet even though one of their principal dancers, the lovely Isabelle Ciaravola tweets on a regular basis.
But the real eye opener about social media's potential to break down barriers and make ballet more accessible came on Monday via New York-based dance writer Gia Kourlas. In this article about ballet dancers who use Twitter which featured in the front page of the New York Times she said:
[Dancers'] Tweets are starting to change the public face of ballet. They may never amass the number of followers of, say, the prolific tweeter Ashton Kutcher, but Twitter is making ballet dancers human. (A simple Google search of a name plus Twitter is generally all that is needed to find them.)
Her article lists some of the most active US dance tweeps (ie. people who tweet): ABT's Daniil Simkin, SFB's Maria Kochetkova, NYCB's Kathryn Morgan, Devin Alberda and Ashley Bouder. It went viral on Twitter and other social media channels and generated a cascade of follow-up articles and reactions:
New York Magazine's Vulture blog singled out the crassest twitterer of the bunch, Devin "tell it like it is" Alberda as their favorite:
without reservation we can recommend the bitchy, uncouth Twitter feed of NYCB's blue-working Mr. Devin Alberda, who likes to keep things edgy.
UK dance writer Ismene Brown commented on Kourlas's article via The Arts Desk:
According to Gia Kourlas's article in the New York Times today, Ashley's iPhone is her closest partner, and her constant twittering is opening up a new understanding of a leading dance-artist's life. So what did the Swan Queen tweet the other day as she magically flew off the stage and prepared to change into the black tutu of her wicked doppelgänger? "Odette act II was ok today, mild foot cramps though. Yuck yuck. Onto odile. Going for evil sexy tonight…"
Internet newspaper Slate.fr also picked up on the story, contrasting it with the fact that there are only two Paris Opera Ballet dancers currently on Twitter (Ciaravola and Karl Paquette). You can read their comment (in French) here.
Dance Theatre of Harlem dancer & active twitterer Christopher McDaniel wrote a pro-Twitter manifesto in his blog:
I love following people, and I love for people to follow me. The main reason I got into Twitter was so that I could see what's happening with others in the dance world, and OMG it is awesome. It's amazing to see that these divine dancers are normal humans who laugh, eat, talk, and screw up just like I do!
NYCB's Kathryn Morgan, one of the dancers mentioned in Kourlas's article tweeted:
I love the "mystery" that surrounds ballet, but I joined twitter to keep ballet growing with the changing times. Any thoughts?
As Twitter works both ways and we believe it's important for dancers and companies to learn more about their audiences Bag Lady L. tweeted in reply:
@KMorganNYCB 2 bring new audiences in, one needs 2 tear down myths surrounding ballet – the mystery & magic in [performance] will still be there!
Capitalising on all this buzz ABT, a relatively new presence on Twitter, launched a "guest Twitterer" initiative:
A dancer's perspective: Corps de ballet member Mary Mills Thomas to tweet for a week!
Some people wrote they had signed up to Twitter just because of the article. Others protested that what should make headlines is Ashley Bouder's "amazing dancing not her tweeting". However different those opinions, the fact is Bouder's follow base more than doubled up in just one day. You can follow other reactions to this story using  Twitter Search.
It is still early days for dance on social media channels. Although there's a lot more ground work to be done to attract new audiences, we are fully supportive of creative, interactive ways to do so. If tweeting is what it takes, then let the twitterverse be flooded with dancers. We hope they become increasingly aware of how much of the power to demystify their chosen art form lies with them.
Further Information & how to get started