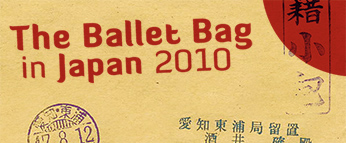 The Tokyo Ballet is one of the largest troupes in Ballet-loving Japan. The company is renowned for its association with Béjart; 18 of his ballets – including original pieces – are currently in repertory. They also boast impressive guests; Sylvie Guillem and Manuel Legris are regulars and, earlier this year, Polina Semionova and Marcelo Gomes  – a match made in ballet heaven – appeared in their production of Ashton's Sylvia.
During our stay in Japan we were invited to attend rehearsals for some of the Béjart works scheduled to be performed in The Tokyo Ballet's upcoming European tour. In this feature we give you a bit of the company's background and share some of the fab images taken by our collaborator Susanne Reffert, whose own blog Chipango captures life in Japan through the eyes of a Westerner. We hope it provides a nice calling card for those not yet familiar with the company.
Background
The Tokyo Ballet emerged in the early 60s as a company for graduates of the Tokyo Ballet Gakko, one of the city's first classical ballet schools.  In 1964 it was taken over by opera impresario Tadatsugu Sasaki who worked to raise the company's profile. Believing that Japanese dancers could achieve high standards if they focused on ensemble work, he invested in the company, widening its repertory. The company thrived under Sasaki and was soon invited to tour abroad, visiting Moscow, St. Petersburg (Leningrad at the time) and Kazan in 1966 (as "The Tchaikovsky Memorial Ballet") and undertaking its first European tour in 1970, now as The Tokyo Ballet.
Growing clamour for governmental support of the arts led to the establishment of Japan's Performing Arts Foundation (NBS) in 1981. With Sasaki as its Executive Director the company sought to promote and facilitate international exchange in performing arts. This not only paved the way for major international ballet troupes to appear in Tokyo, but for The Tokyo Ballet to attract major choreographers; John Neumeier, Jiří Kylián and Maurice Béjart all created works for the company, the latter having bequeathed performing rights to many of his works.
The Tokyo Ballet Today
The company has 86 dancers
In 2007 it received the 6th Asahi Performing Arts Prize for artistic achievements
Every other year the company tours Europe; occasionally North and South America
It has completed 23 tours and over 680 performances in some of the world's most iconic theatres: La Scala, Wiener Staatsoper, Deutsche Oper Berlin, Teatro Colón, Bolshoi Theatre, Mariinsky Theatre and the Paris Opera
It has a wide-ranging repertory including original works by Neumeier (Seven Haiku of the Moon; Seasons – The Colours of Time) and Kylián (Perfect Conception).
In 2010 the company premiered John Cranko's Onegin and Sir Frederick Ashton's Sylvia
The Tokyo Ballet rehearses Maurice Béjart
Tadatsugu Sasaki developed a close friendship with French choreographer Maurice Béjart who felt "very much at home in Japan". Through this connection The Tokyo Ballet formed an important association with Béjart whose work was often inspired by Eastern themes. The choreographer first collaborated with the company in 1982 when Bolero was staged. This led to three original ballets being created for them: The Kabuki (1986), M – based on the biography of novelist Mishima Yukio – (1993) and Bugaku (1989).
I caught up with The Tokyo Ballet on the run-up to its 24th European tour; a showcase of Béjart big ensemble pieces The Kabuki, Don Giovanni and Le Sacre du Printemps. The first rehearsal I saw was for Don Giovanni (or The Don Giovanni Variations). Béjart loved Mozart's operas, so he created this short ballet where a group of women try to impress and lure an imaginary playboy with their charm and grace.
The piece is set it to Chopin's Variations on Don Giovanni. Under the watchful eye of ballet mistress Hiroko Tomoda,  Junko Takamura, whose warm smile and quick feet perfectly sum up the role of "the girl with a book", practices with her colleagues.
The ballet starts with the women waiting in a rehearsal studio. They suddenly hear a voice and respond with movement. Don Giovanni is split between mime scenes (where the girls act coquettish and flirty) and classical petit allegro sequences.
There are also plenty of solo roles. The powerful jump of Aya Takagi and Chika Saeki's beautiful upper body (as well as her sparkly hairband) caught my eye more than once.
Béjart's ballets tend to focus on male dancers,  so an all-female piece like Don Giovanni was a new direction for him. At times in the ballet we see 26 ballerinas move in unison; then they smoothly transition into smaller groups.
Next it was time for the boys to join the girls for Le Sacre du Printemps (The Rite of Spring), Béjart's first big success. This session was led by Artistic Director Munetaka Iida, a very energetic ballet master.
Rite was commissioned by Maurice Huisman, then director of the Théâtre Royal de la Monnaie in Brussels. It premiered in 1959 to general acclaim.
Even in rehearsal, with no costumes or setting, the ballet retains its power. One could feel an overall sense of occasion and commitment from the dancers.
Béjart's intention was to present a hymn to the union between "man and woman" at its most fundamental level, with a large corps de ballet also taking part in this savage ritual.
The main roles were taken by principal Mika Yoshioka, a dancer who has a clear sense of drama, and soloist Naoyoshi Nagase
Béjart's work is highly theatrical. He gave importance to content over movement and drew frequently from biographical, social and cultural subjects, rejecting "fairy tale" themes and often including an erotic vein.
I got the feeling that the dancers very much enjoy performing in these ballets and that they have an understanding of what Béjart wanted to transmit. A spectacular, kinetic piece like Rite requires their total commitment as they are on stage at all times.
The rights to perform Rite were suspended in 1990. But three years later Béjart allowed The Tokyo Ballet to revive the work for its 30th anniversary; also giving the company exclusive performance rights.
More rehearsal images and candid shots available from The Tokyo Ballet's official blog. All images here either courtesy of  The Tokyo Ballet/NBS or posted with their kind permission. With many thanks to NBS Press officer Maiko Uchida for the tour and for making it all happen.
Sources and Further Information
Maurice Béjart Obituary by Ruth Leon, Bloomberg. Nov, 2007. [link]
Maurice Béjart entry in GLBTQ Encyclopedia by John McFarland. [link]
Maurice Béjart Obituary, NYT. Nov 2007. [link]
Nuits de Fourvière, Info site. The Tokyo Ballet dances Béjart.[link]
Programme Notes for Don Giovanni, The Kabuki and Le Sacre du Printemps, The Tokyo Ballet, 2010.
The Tokyo Ballet. Lausanne city portal. [link]
---
Where to see The Tokyo Ballet performing Béjart
During their 2010 tour of Europe:
Turkey: Don Giovanni / Dances Grecques / Sacre du Printemps (Aspendos 17 June; Istanbul 19 June)
Germany: Images of Asia by Béjart: Bugaku / The Kabuki Suite (Hamburg State Opera June 22, 23) The Kabuki (Deutsche Oper Berlin. July 6, 7)
Italy: Danses Grecques / Don Giovanni / Sacre du Printemps (Napoli June 26, 27;  Cremona, Festival di Mezza  July 4; Racconigi, July 17, 18)  Don Giovanni / Bugaku / Danses Grecques (Civitanova, July 1); Gala Evening for 700th Performance Abroad feat. The Kabuki (Milan, Teatro Alla Scala July 11); Don Giovanni / Bugaku / Bolero (Como, Festival Como Città della Musica July 13).
France: Bolero / Danses Grecques / Don Giovanni  (Lyon, July 15)
Further details from the local promoter's websites or by searching Tokyo Ballet on Bachtrack.