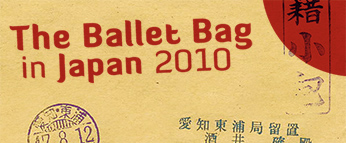 During my session with The Tokyo Ballet in rehearsal for the upcoming European tour, I had the pleasure of meeting  Aya Takagi, one of their soloists. I had seen Aya rehearsing for Béjart's Don Giovanni and was very impressed with her jump and athleticism. Given the opportunity and the fact that she spoke perfect English, I decided to ask a few questions about her career with The Tokyo Ballet and the differences between ballet in Japan and abroad:
Aya Takagi hails from Tokyo. She started ballet at six and, thanks to a scholarship, spent two years at the Vaganova Ballet School (class of L. Kunakova). She joined The Tokyo Ballet in 2001. Her repertory includes Odette in Swan Lake, the Sylph in La Sylphide (Lacotte version), Myrtha in Giselle, Diana in Sylvia and Mercedes in Don Quixote as well as major roles in The Nutcracker, A Midsummer Night's Dream, Paquita, Ballet Imperial, Theme and Variations, Kabuki, Rite of Spring, Don Giovanni and Danses Grecques.
You tour frequently with The Tokyo Ballet. What are the main differences between Japanese audiences and those abroad?
People in Japan love to see performances every day. There are a lot of fans and many regulars. However, given that the prices are rather expensive here they treat ballet as an event, very different from going to the theatre or the cinema. They make it a special occasion and they always shower us dancers with gifts. In Europe I get the impression that ballet is popular, but I don't think there is that same sense of occasion.
Why do you think ballet is so popular in Japan?
Ballet has beautiful costumes and music so it attracts everyone and we always have the best companies coming on a regular basis and stars from abroad guesting frequently, so people become more excited about it. There is also the fact that there are many ballet schools in Japan, although this is both good and bad: anyone who has little experience can teach and set up a school, which in turn affects the quality of the training. But it also makes ballet academies accessible to everyone, so it is very easy for someone to take a ballet class.
How hard is it to become a dancer in Japan?
Well, because of the availability of schools, it is easy for someone to learn ballet and keep on training until one reaches 21 or so. Because of that, everyone can dream of becoming a professional ballerina. But then you take your first audition and that's where your dreams can be crushed! In other countries it might be harder to graduate from school… In Japan there is a huge amount of people training and the number of local companies is not enough to satisfy the demand. Therefore, competition for places is extremely high. Only five to six dancers will get picked up by the companies every year.
What do you look forward to the most while on tour?
Touring is exciting because one gets to see different audiences and reactions. For instance, when we went to China I was very impressed when everyone started to applaud during the second act of Giselle, when everything is supposed to be quiet!
The Tokyo Ballet has a special relationship with the works of Maurice Béjart. What does the company bring to Béjart's choreography?
Béjart loved Japan and was very involved with The Tokyo Ballet for many years. I think Japanese dancers are very expressive and we always try to show our feelings on stage. It is a big responsibility because we know Béjart's work and we understand the background and how he wanted his ballets to be performed. I personally find his choreography to be very unique; it certainly occupies a special place in the heart of the company.
Which dancers and choreographers do you particularly admire? Has anyone ever left a lasting impression on you?
I've always admired Sylvie Guillem and Manuel Legris. It is always a privilege to work with them. In February Legris came to stage a gala programme – The New Universe of Manuel Legris – and Patrick de Bana created a new piece for us, White Shadow, which had a main role for Manuel. At first the creation process was slow. We were looking at him as a dancer, which is how we know him but at that point he was still being taught how to dance the choreography being made for him. Within two weeks we were just in awe of how he was now teaching us how to dance. I also look up to people like Diana Vishneva, Vladimir Malakhov and Alina Cojocaru.
What are your favorite roles and dream roles?
In January, I had the honour of dancing the Sylph in Pierre Lacotte's production of La Sylphide, so this has become my favourite role. However, I would be delighted if I could dance Juliet in any version of Romeo and Juliet and Cinderella.
---
Images courtesy of  The Tokyo Ballet/NBS