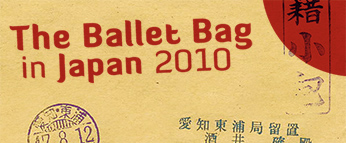 With this current series of articles about ballet in Japan we have attempted to show the extent of ballet's popularity in the East. Thanks to my lucky stars, I was able to witness it all first hand as I joined the Japanese fans in the Royal Ballet's inaugural evening performance of La Fille Mal Gardée. Having talked about several performances of Fille earlier this year in London I thought I'd focus here on how the Japanese audience, typically very appreciative of classical works, would react to Ashton's quintessential English ballet. I was well aware that cultural differences play a big role on how a particular ballet or dance company is perceived as the week before Tokyo Ballet soloist Aya Takagi had told me about Chinese audiences and their reaction to the second act of Giselle. More than once, our Japanese friends had also told us that, in their country, Royal Ballet familiar faces such as Marianela Nuñez, Tamara Rojo and Alina Cojocaru were practically given celebrity treatment.
I also wanted to investigate how the locals "go to the ballet": what they wear, where they hang out before, during and after the performance.  Camera in hand I approached and spoke to a few ballet fans – lookout for "Royal Ballet red carpet photoblog" coming up -  and generally found both atmosphere and dress code very relaxed and informal. What struck me the most was how young the audience was – mostly in the 25 – 45 gap – much younger than the ROH average. Not unlike what one might do before a pop concert, as people arrived I noticed they headed straight to the merch stands to get exclusive tour goodies; T-shirts, canvas bags, coffee mugs. They would then move on to their seats, where they would stay until performance time.
It might have been the lack of sitting areas at the Tokyo Bunka Kaikan, but the atmosphere during the intervals was very relaxed. Most patrons would get beverages (but even still water seemed expensive to me) rather than food, although in the main lobby I did see ballet goers eating takeaway noodles and rice by the stairs.
The Fille performance I saw featured favourite couple Marianela Nuñez and Thiago Soares as sweethearts Lise and Colas. Nuñez may perform this role more often with Carlos Acosta, but she clearly had a natural chemistry with her offstage partner Thiago. And while she is the ideal Lise, Thiago is a very different Colas. Those used to Acosta's cheeky portrayal will perhaps find him a better behaved Colas, a goody goody boy who happens to fall head over heels in love with this feisty girl. Fille is a funny ballet and, in the West, the characters of Widow Simone (a travesty role), Lise's maladroit fiancé Alain or the dancing chickens are guaranteed to provoke fits of giggles (that is, unless you are like our tragedy-loving Bag Lady E). Surely physical comedy must be a universal language? Then again, as I sat in the Bunka Kaikan theatre, the dancing chickens appeared, the cockerel crowed and the audience remained silent. They did not react when Alastair Marriott's hilarious Widow Simone threw pots & melons at Colas, nor when Lise got slapped in the face.
When Alain's awkwardly-funny entrance guided by his father also failed to provoke an outburst I started to think that maybe British humour was not getting across, but looking around I was reassured by smiling faces everywhere. So polite smiles at least. From then on the laughter stakes significantly improved. The pony's arrival was met with scattered giggles and finally hearty laughter came during the pas de trois between Alain, Lise and Colas – here huge credit to the fine comic timing of Soares (his grinning face sandwiched between Lise's and Alain's was priceless), with the biggest eruption reserved for Act II as Lise inadvertently chokes Widow Simone while dancing with the thread around the spinning wheel.
But what surely delighted the Japanese public was Ashton's choreography, with the Act I grand pas de deux generating the most applause. Here I got the feeling the public was reuniting with an old friend – "oh, this part I know!" – and by the time Nuñez had negotiated that tricky coda with the small steps, the audience was more than ready to stand up and applaud her. The perfect cherry on this Ashton cake was the jaw-dropping one-handed lift. When Soares lowered one arm to leave a smiling Nuñez balancing on the other, there was such an eruption of joy that I almost got smacked in the face by the person sitting next to me.
Besides the obvious adoration for Marianela Nuñez, the public also approved of Soares and deservedly so. He is a dancer more often recognised for his strong dramatic skills, elegant line and solid partnering than for the technical bag of tricks; and the choreography for Colas is perhaps a better fit for more compact dancers. Notwithstanding, Soares sailed through Ashton's fiendish variations and executed an impressive final series of pirouettes à  la seconde which leveled his share of applause with Nuñez's.
By the time Alain reaches for his cherished red umbrella in the final scene the Royal Ballet had managed to captivate a teary-eyed, smiling public. Many curtain calls followed and, as applause lingered, I realised the decision to tour Ashton's Fille – so seldom performed by The Royal Ballet abroad (ditto MacMillan's Mayerling) – had really paid off: it showed the company's strengths and distinctive attributes and clearly left the audience wanting more.
I had heard those tales of Japanese fans queuing up at stage door so at the end of the show, I went to see it for myself. There were indeed lots of young people waiting for the dancers to come out. Most of the fans had notepads, programs and camera in hand to get a quick snap and autograph of their favourite dancer. When the leads finally appeared a human tornado surrounded them. As other members of the company left the theatre almost unnoticed and headed straight towards Ueno metro station I wondered how long the adoring fans would keep Marianela and Thiago.