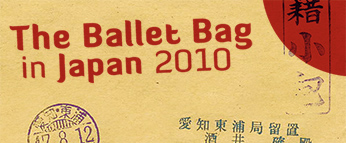 Although Vancouver Opera has recently developed and published an excellent series of Opera Manga, in the West the concept of opera and ballet in comic books still sounds very niche. But in Japan, Ballet Manga is very much part of the cultural mainstream. Publications like Kyoko Ariyoshi's "Swan" or Ryoko Yamagishi's "Arabesque" have been around for decades and are considered timeless classics; a pop culture phenomenon.
The ballet manga boom came during the Seventies & Eighties, when Swan became a regular series. At that time, with no computer games and other ADD-inducing gadgets, young girls became avid readers of shōjo Manga – that is, manga for girls (remember Sailor Moon?). These comic books became directly correlated to ballet's increasing popularity, as reading them would inspire girls to watch performances or take ballet lessons, in the same way Captain Tsubasa had an impact on footballers like Hidetoshi Nakata, Francesco Totti, Zinedine Zidane and Fernando Torres.
The tradition started by Ariyoshi continues today with Swan Magazine, a quarterly publication which is part manga, part dance magazine with features, news and interviews, sometimes directly connected to the story itself. Each issue takes about 3 months of planning and putting ideas into practice. Typical readers are women in their 40s and 50s as well as their children. Swan has a circulation of 20,000 copies per issue.
The very first issues (Vol. 1 to 16) told the story of  "Maia" – daughter of the original Swan heroine – who took over as lead in what is known as the "Next Generation Series". The editorial team selects performances which they think might be of interest to their readers and develop stories around them. Sometimes the search for inspiration takes them further afield. For instance, in order to develop some of the episodes in the current issue – the Moscow Series – the team is planning to travel to Moscow. Last summer Kyoko Ariyoshi and the Swan staff attended Hamburg Ballet's annual "Ballet Week" as well as the Nijinsky Gala.
During 2009 Swan Magazine also traveled to Stuttgart where they met up with Stuttgart Ballet. As a result, Vol. 18 centered around the arrival of two main characters in Stuttgart. The issue contained features on principal dancers Marijn Rademaker and Evan McKie, who also had a cameo in the manga. Besides featuring dancers, Swan mag crosses over into the real world with other cultural references, for instance movies like The Red Shoes and The Turning Point have appeared in past issues.
For the interviews and features the magazine collaborates with ballet companies (through their press offices) or directly with dancers, choreographers and artistic directors. Â They are frequently sought out by contributors, promoters and arts impresarios who would like to see their productions covered in the manga. The original Swan series was published in English, Korean and Indonesian but unfortunately current issues of Swan Magazine are available only in Japanese.

According to Swan's Editor in Chief, Chisato Tanemura, the concept of Swan Magazine is  simply "Let's enjoy ballet with Kyoko Ariyoshi, the author of SWAN!"
Tanemura also says:Â 
Our intention is to make readers develop an interest in ballet, which is sometimes considered an elitist hobby and, through Kyoko Ariyoshi's Manga, make them ballet-goers.
We also want the generation that read the original Swan in their youth and had aspirations of taking ballet to revive their passion for the art form and bring back childhood memories via SWAN magazine
We would be very happy if readers would start to take adult ballet lessons or take their children to ballet classes or go to ballet performances because Swan inspired them to do so.
With many thanks to the Swan Magazine crew & to the lovely Naomi Mori