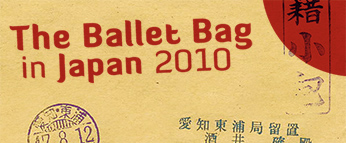 The Sleeping Beauty is a staple of major classical troupes. Despite being an expensive ballet to stage, it is amongst those productions that ensure box office safety and keep dancers well drilled. It demands not only starry leads but a strong supporting cast to carry through endless variations and character roles like Carabosse and the Lilac Fairy.
Though I had already seen two of Britain's major productions of this ballet: the Royal Ballet's  -  based on the iconic 1946 staging by Sergeyev and de Valois – and Birmingham Royal Ballet's very chic version by Sir Peter Wright, I'd never been able to catch Kenneth MacMillan's Beauty which is performed over here by English National Ballet. During my stay in Japan I had the opportunity to finally see it as staged by Noriko Kobayashi Ballet Theatre. This local company has a repertoire which draws on British ballet tradition (think Ashton, MacMillan and De Valois) and in various occasions they have featured high profile guests such as Johan Kobborg. Curiosity got the better of me and so I went to see this British Beauty with a hint of Eastern flavour.
The danger with Sleeping Beauty is that productions can easily fall  into "ballet is all about pink gooey" territory  and strip Petipa's masterpiece of its authenticity. That is certainly not the case with MacMillan's staging. Nicholas Georgiadis's splendid costumes alone make this production one to watch: beautiful colours for the fairy tutus – all with individual patterns – court costumes which are designed with meticulous historical accuracy (after all the ballet covers a period of a 100 years); all suggesting grandeur and finesse. These are matched by the inherent romanticism of Peter Farmer's settings that frame the dance without distracting us from it. Everything works to complement Petipa's choreography.
MacMillan might be better known for his dramatic story ballets and lyrical pas de deux but more than once he spoke about the influence of classical choreography on his own, particularly about how Petipa ballets such as The Sleeping Beauty had shaped his dance making. This is reflected in this purist staging. MacMillan created new choreography only for those fragments which were incomplete (such as the Garland Waltz and the Jewels Divertissement) and the action never deviates from the original storyline. One of the highlights in MacMillan's libretto is Carabosse's demise. Whereas most productions tend to think Carabosse can be defeated by Prince Desiré simply with a quick push into the wings, MacMillan emphasises that it is ultimately the Prince's awakening kiss that breaks Aurora's curse and strips Carabosse off her power; reflecting the intentions in Tchaikovsky's own score.
Noriko ballet is fortunate to have acquired one of the most definite productions of this ballet and I was impressed to encounter a foreign company dancing in a very British style, with great acting skills. The character dancers made me wish I could see more of their work. And while my lack of familiarity with the company prevents me from elaborating on individual performances our friend and superstar ballet blogger Naomi Mori from La Dolce Vita was kind enough to translate her review into English for us:
Naomi Says:
Noriko Kobayashi Ballet Theatre revived their production of Kenneth MacMillan's The Sleeping Beauty on the foot of last year's successful company premiere.

MacMillan's choreography and direction, staged by Julie Lincoln is basically orthodox but shows some dark dramatic undertones, mainly on the Prince's melancholic solos, the depiction of a lady showing amorous glances at him in the second act, and above all, the depiction of Carabosse as a glamourous and eccentric version of Queen Elizabeth. The expressive acting of Carabosse portrayed by Ikuko Kusumoto added much richness to the story, making it very MacMillanesque.
The production, borrowed from English National Ballet (ENB), is ravishingly beautiful. Costumes designed by Nicholas Georgiadis are chic and elegant, with a colour palette of faded pastels and champagne gold. The designs by Peter Farmer with a backdrop displaying the dim ray of light shining on through a deep forest added majesty to this sentimental story.

Akiko Shimazoe when first entering the stage as the 16-year-old Aurora looked a little shy and modest, but she danced with excellent balance and comfort showing marvellous musicality and freshness. And at the final coda, she showed momentum in her quick pirouettes, which got faster and faster reaching a climax, that brought to the audience plenty of excitement and bliss.

Roman Lazik as Prince Desiré was a guest from the Vienna State Opera. Lazik is a well balanced and proportioned dancer, with wonderfully arched feet. With his princely manners, he displayed a warm personality and modesty as well as being an excellent partner.

Noriko Kobayashi Ballet Theatre is not a large organization, but the corps de ballet were unfussy, very well organised and showed their uniformity with a touch of warmth. This "Sleeping Beauty" is a production that deserves praise. Read Naomi's original review in Japanese here