The Black Swan trailer has finally been unveiled (it has featured in our video of the week box since Tuesday) and the internet is awash with commentary and dissection. While NY Magazine's Vulture blog thinks the movie looks like a chic version of "Single White Female" with a bit of "Mommie Dearest" thrown in, Natalie Portman herself said to MTV that it was more like "Rosemary's Baby". If you watch the trailer – and we will never tell how many times we've done that – you will see some Polanski influences creeping up here and there (and Winona at 1:25!).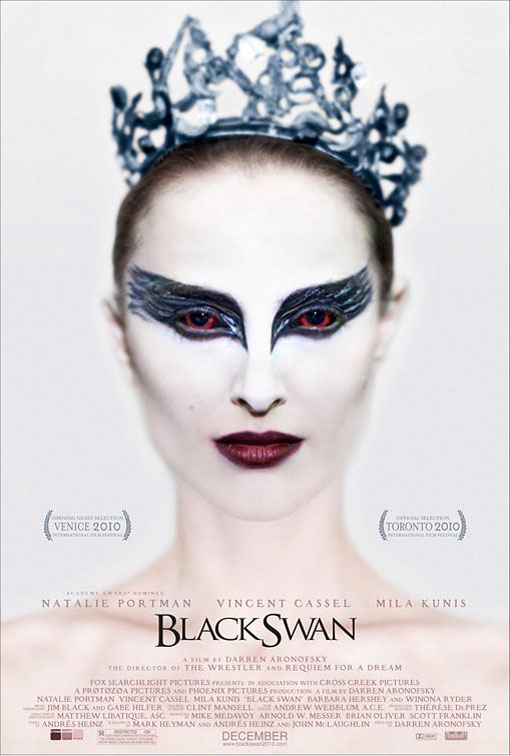 The lead-up to this movie continues to be our favorite topic because… well… 1) we're geeks; 2) how many stylish ballet movies have been shot in recent times? ; and 3) Aronofsky knows his stuff. What else can we expect from Black Swan?
1) Modern Gothic - Vincent Cassel – who plays the sadistic dance master – told Vanity Fair that Aronofsky has gone for a modern take on the gothic thriller genre, and the movie has also been given some coverage on famous horror site Fangoria.
2) Blood Spillage – That's an easy one to guess. From overworked toes to bloodshot eyes and main character Nina's fantasy of feathers growing out of her shoulders the trailer has shown us this will not be a movie for the squeamish. Besides ballet can indeed be bloody, just take a look at a true story that happened earlier this week.
3) Ballet Chic - And we don't just mean Aronofsky's directing. Can you spot the Rodarte costumes on the trailer? Also, stylish leotard brand Yumiko has provided the practice gear worn by Portman and Kunis. The poster looks fab & we hope Benjamin Millepied's choreography will fit the bill nicely.
4) Dream vs. Reality – To what extent is Nina's rival Lily real – might she have something of Fight Club's Tyler Durden? – how much of her is Nina's projection of the ideal, seductive "Black Swan"? Expect plenty of psychological elements: insecurity and obsession leading to paranoia.
5) Female Fixation – White Swan Nina is fragile and fixates on domineering Lily. Time Magazine has an interesting feature looking back at the female mystique in Aronofsky's movies
Links roundup – for yet more buzz, have a look at this article on movie website Salon.
Have you seen the trailer? If so, what's your favorite part? We'll tell ours if you tell yours first…