In our previous photoblog of The Tokyo Ballet in Rehearsal we wrote about the Company's close relationship with French choreographer Maurice Béjart. M (1993), a series of dances centered around the themes of death, ocean and mythology, is one of the ballets he created especially for The Tokyo Ballet. It is inspired by the life and works of Japanese novelist Yukio Mishima, whose play Madame de Sade was staged last year in London with Judi Dench and Rosamund Pike in the lead roles.
To commemorate the 40th anniversary of Mishima's death, The Tokyo Ballet will be re-staging M later this month. From Tokyo, our guest blogger Kris Kosaka reports on rehearsals for this special performance:
---
Clear and crisp, the blue sky freshly washed and gleaming, I clapped twice and bowed as I passed the Meguro river on my way to the Tokyo Ballet studios, to honor the shade of Yukio Mishima (1925-1970). Today, November 25, marks the 40th anniversary of Mishima's seppuku, ritual suicide, at the age of 45, and to commemorate his death, Tokyo Ballet will stage Maurice Béjart's M in mid December.
Rehearsal officially opened with a 30-minute speech by Administrative Director Norio Takahashi, in honor of the anniversary of Yukio Mishima's death.  Takahashi san spoke of Béjart's desire to pay tribute to Mishima, as an avid fan, encouraged by revered Japanese composer Toshiro Mayuzumi, who had worked with Béjart earlier (Kabuki). Mayuzumi himself spoke to Mishima's widow during the collaboration, and Béjart choreographed the ballet in one month.
Click on the images for captions
Many of the original cast from 1993 will reprise their roles, including a return to ballet from a 7-year absence by Juichi Kobayashi, who was sidelined due to intervertebral disk degeneration. Fans anticipate a new dramatic maturity as he reprises the enigmatic role of "Shi" (number four/death).
This production also marks the debut of Tokyo Ballet's rising soloist Naoyoshi  Nagase in the ingenuously erotic role of Saint Sebastian.
Nagase san came by to graciously explain he was resting a slight injury, and would thus only mark his solo.  Still, he somehow managed to exemplify beauty, youth, and grace in motion, and Japanese audiences are correct to anticipate his performance.
Mishima's novel Kyoko's House presents four stages of man and Béjart took this idea and expanded it in the ballet, with the characters ichi (1), ni (2), san (3), shi (4). A homophone in Japanese, the number four also sounds like the word for death, and that double meaning is obvious in the ballet.
Here Goto Haruo and Kazuo Kimura reprising their roles as Ni and San from the original production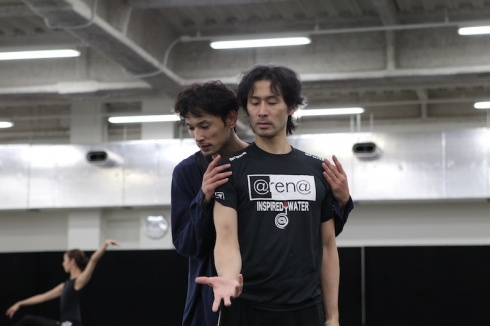 Artistic Director Munetaka Iida, who played Shi in a past production of "M" rehearses Kobayashi. The dancer's recovery is obviously complete, as he never marked during rehearsal, and danced with strength and power, although occasionally in some pain.
The work moves from Mishima's inner struggles and frustration to his discovery of the physical – he was an avid body builder and model, and later formed his own self-defense force, Tate no Kai.  Béjart is known as a choreographer for the danseur and M showcases the beauty and power of masculinity. Here Kobayashi in a light moment: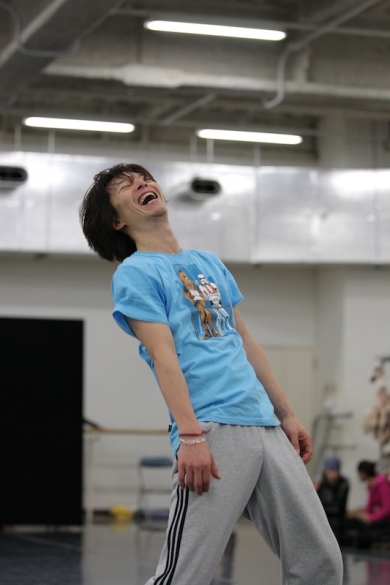 Reiko Koide and Rie Watanabe (debuting) each revealed an ethereal and graceful luminescence in rehearsal. Below Watanabe as the Moon on the Water:
The male dancers practiced the ending, Tate no kai, the special self-defense force, formed and led by Mishima to "protect" the Emperor.  Translated, it means shield, and the male dancers act as a barrier and then a background to the schoolboy's reenactment of Mishima's infamous seppuku, ritual suicide.
The rehearsal required many stops and starts, as Artistic Director Iida san went through the timing and precision movements with the male corps several times. "Don't run into each other!" he extolled good-naturedly, and reset the music again.
Once the men had been dismissed, Iida san rehearsed the female corps, as the final Tate no kai scene blends with the reappearance of the sea in a sequence requiring exact timing from the dancers who mimic the oceans' grace.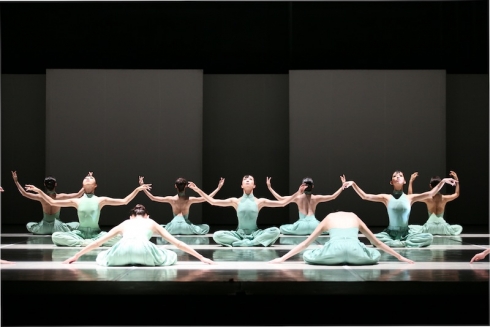 Rehearsal ended slightly later than scheduled, because of the speech by Takahashi san, but the dancers seemed still lively at the end. Juichi Kobayashi and Ryuta Takahashi practiced some hip hop in the corner, while other dancers moved to the side to practice steps.  There did not seem to be any tension or frustrations, even at this early stage of rehearsal; perhaps with so many veterans reprising their roles, their confidence has permeated the company.
I left the rehearsal hall with the sunshine dissipating and my stomach growling, so I found the nearest ramen stand and ate hot noodles with a beer, toasting Mishima san and the Tokyo Ballet, with a special thanks to Maiko Uchida of NBS and The Ballet Bag, for arranging this day and to Nagahata Yoshiaki of Nagahata Ballet, for all his help with Béjart and M.
Kampai to M.
Photo credits: All images by Kiyonori Hasegawa, posted with kind permission of  The Tokyo Ballet / NBS  ©

M runs 18 and 19 December at the Tokyo Bunka Kaikan. For more information visit The Tokyo Ballet's official website.

For Kris Kosaka's review of the production, click here.
---
About the Author:

Kris Kosaka lives in Kamakura, Japan.  Kris writes frequently for Japan Times, and has also submitted to Ballet Magazine and The Opera Critic, two webzines on the arts.  Anything she can't get accepted elsewhere, she posts to her blog, Across Cobwebs and Chasms.