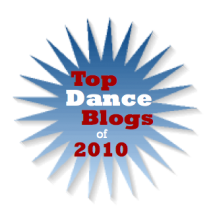 Houston-based website Dance Advantage is hosting a competition to select the Top Dance Blogs of 2010. This competition is designed to show the strength of the online dance community and to engage readers.
Bloggers whose posts revolve mainly around dance (any form or genre) are eligible to participate.
Our aim here is to draw attention to this great initiative and flag some of the blogs currently participating. We are not entering the competition this year due to time constraints, but we think this is a fantastic way for readers to discover a variety of dance blogs:
Readers have until December 22 to give as much comment support as they can to their blogs of choice:
Only blog posts with the most comments will qualify for the voting round
Voting will take place between December 27 and 30
The votes will be tallied and the results posted during the first week of the new year
We wish all participants best of luck. If you have entered your blog into the competition, feel free to leave a comment here & we will make sure to visit!