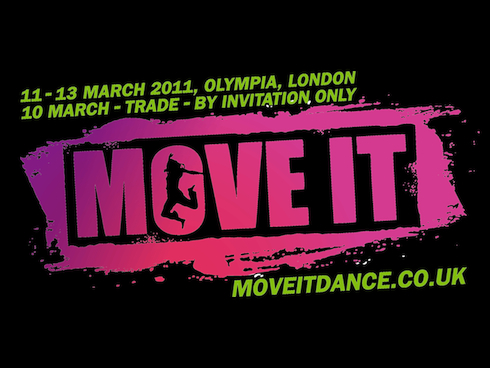 The Move It show is the UK's biggest dance event featuring live performances, dance classes, competitions, exhibition stands and interviews. The show attracts over 20,000 dance fans over three days and offers you the opportunity to create "your ideal day of dance".
Move It's 6th edition opened yesterday in London. This year we are participating in the show's Ballet Rocks series. In addition to presenting a ballet masterclass and a performance (see details below), tomorrow 13 March we will be talking social media & ballet with Royal Ballet dancers Bennet Gartside & Kristen McNally. So if you are at Move It tomorrow, don't forget to stop by the Big Dance Interview Sofa at 12:15.
Here are some of tomorrow's balletic highlights:
10:30 – 11:30 – Not Your Average Ballet Class
An unconventional take on Ballet led by Bennet Gartside, artist of the Royal Ballet. Part of Ballet Rocks series.
11:00 – The Real Billy Elliot: Working in the West End.
Hear from young performer Matthew Koon what it's like to make his West End stage debut at 12 years old as Billy Elliot and to win the RAD's Fonteyn Nureyev Young Dancers Competition in 2008. Having gone on to be a finalist in Sky 1′s Got To Dance, and now training full time at the English National Ballet School. Matthew talks about his varied experience and what dancing means for him. Presented by Royal Academy of Dance.
12:15 – Ballet Rocks: Ballet and the blogosphere.
Leading ballet bloggers explore how ballet can benefit from social media networks and the latest that the ballet blogosphere has to offer. With Royal Ballet dancers Bennet Gartside and Kristen McNally, joined by the editors of The Ballet Bag.
We'll be taking questions for Bennet and Kristen via Twitter so even if you are not attending you will have the chance to join the conversation. Just tweet your questions to @theballetbag or use the hashtags #moveit2011 or #moveit
13:00-14:00 – Classical Ballet Masterclass
Professional level Ballet, taught by Adam Pudney. Presented by London's Danceworks.
15:30 – Ballet Rocks Guest Performance
The Royal Ballet's Kristen McNally presents an extract of her ballet Don't Hate the Player Hate the Game which premiered last year at the Linbury Studio Theatre. Performed by Thomas Whitehead.
Throughout the day:
Drop by the Royal Academy of Dance stand. Among many special offers you'll have the chance to win 2 family tickets to see Birmingham Royal Ballet at London Coliseum on 29 March if you subscribe to RAD's Dance Gazette. There are also some fab goodie bags up for grabs.
Follow Move It Show participants on Twitter:
@Bennet76 @RADheadquarters @tommyfranzen @libbycostello @balletboyz @bigdancenews @moveitshow