Lucía Piquero is the founder choreographer of Diciembre Dance Group, a project started in 2008 to bring together artists from different backgrounds and disciplines. In her previous guest blog for us she considered the challenges and rewards of wearing the hats of dancer and choreographer.
Here Lu reports on her collaboration with Secret Cinema for their recent screening of ballet movie classic The Red Shoes.

---
If you have ever been inside Tobacco Docks in Wapping you already know what I mean when I say it is a shame that a building like this could be empty most of the time. The possibilities are really endless (we could talk about how this old factory could be used for dance or arts in general, but that would be another whole post), as the Future Cinema Group proved with their latest project. Secret Cinema is an ambitious new concept that allows audiences to interact with a film, bringing the screen to life using actors, dancers and set designers:
When we started collaborating with Secret Cinema for their screening of Powell and Pressburger's The Red Shoes (through Cloud Dance Festival, for which we are really grateful!), Diciembre Dance Group co-director Sara Accettura and I went to visit Tobacco Docks to discuss our proposal and explore the possibilities. We talked to Future Cinema staff, including their lovely dance coordinator Mari Frogner, and agreed on a space and other details for our dance installation. The building seemed a perfect base to create almost any atmosphere, especially the "creepy" mood we were looking for.
We were inspired by the more surreal moments of the movie and wanted to create a dark room where the dancers (with red paint in their legs or red tights) would be seen from the thighs down. We wanted to have a structure from where they could "hang", hence creating a "floating legs" effect. The movements would be turned in and weird, so as to create an atmosphere of insecurity for those watching. As with most ideas (especially when there are budget constraints), we had to adapt to what was available. Happily, we found two spaces that worked well: big windows where the dancers would be seen either from far away or from beneath, which helped us create the illusion of "floating legs", as there was no possibility of building something for the dancers to actually hang from.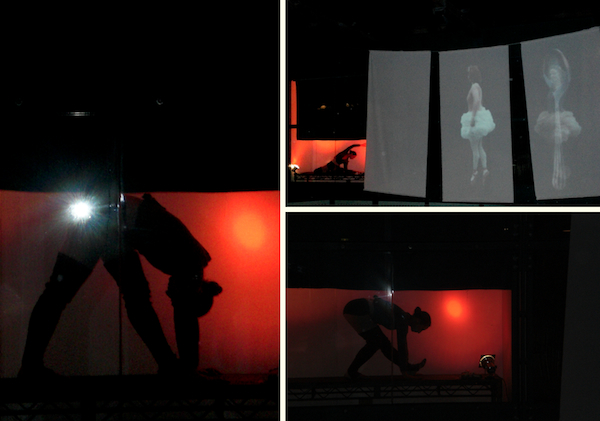 Next it was time to think about the way the film would be presented. The Secret Cinema team magically transformed the whole building (well, most of it really, the place is huge) into a mini London. The audience would come in and enter via "Covent Garden" and the "Royal Opera House" complete with a set workshop, costume and makeup departments and main character Vicky Page's own dressing room. In a fantastic way of reflecting the film, reality and fantasy were mixed; the actors and dancers you saw in the costume and makeup rooms getting ready, were the same actors and dancers who would later reappear performing around the audience.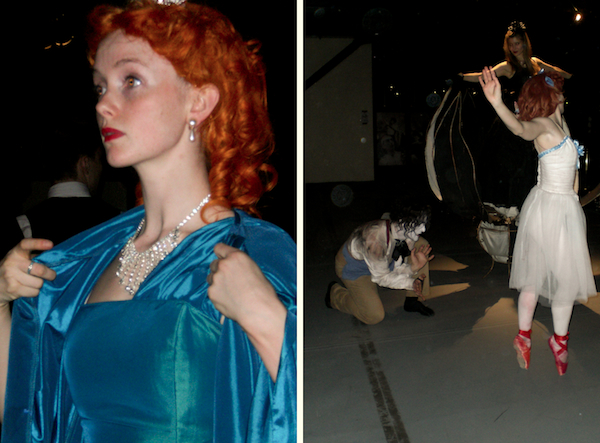 In keeping with this mix of reality vs. fantasy there were two versions of the Covent Garden Piazza where you could find shops of every kind, from popcorn kiosks to restaurants, florists, jazz bars, jewelry shops and even hairdressers. To top it off, they also recreated fictional ballet impresario Boris Lermontov's office and the rooms where the film screening would take place were surrounded by four "real theatres" (including the Royal Opera House, Sadler's Wells and the Coliseum).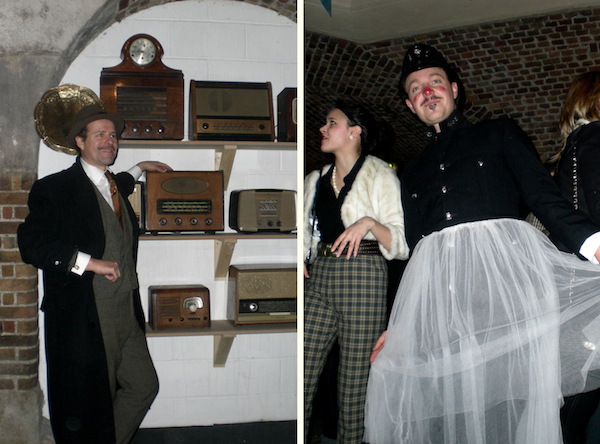 We had a dress rehearsal on the 9th of February, a press night on the 10th and then a month-long run of performances. This was the longest run of anything DDG has ever done and trying to arrange at least two or three dancers every night out of the 15 we had available proved to be a challenge. On the plus side, as our performances were improvised, we didn't really need much rehearsal time, which made logistics easier for us (everyone should try at some point to bring together 15 freelance, unpaid dancers to rehearsal, pointe shoes are nothing compared to that pain!).
We set tasks and gave the dancers some imagery and instructions to work with, but they were free to improvise. As the music was initially vivacious (almost circus-like) it was very easy to be swayed away from the creepy mood onto a feeling of joy, so we had to coordinate with the dancers to ensure everyone stayed in "character". The audience didn't always see us at first, which led to very funny reactions and very intrigued looks, as if they were wondering where those floating legs came from. If you didn't move for a while, people would come closer to see if you were a real dancer or a statue.
Another high point was that once our performance was done and we had changed out of dancers' clothes we could experience Secret Cinema from the audience angle. Apart from minor quibbles, the whole production was wonderful, the idea alone that every night they sent hundreds of people back in time and to another world would be enough to make me happy, but the fact that everything was planned with so much detail to create a fun and interactive experience for the audience just adds to the wonder. DDGÂ  would love to collaborate with the Future Cinema team again, but even if not, we will make sure to be part of the audience in their next production!
All photos by Diciembre Dance Group ©
More Information: