Tonight The Royal Ballet begins its three-day residency at London's O2. This is the first time the Company has set foot on a UK arena and, to mark the occasion, they are fielding an all-star cast to perform in Kenneth MacMillan's Romeo and Juliet. Taking turns as the famous star-crossed lovers are Carlos Acosta and Tamara Rojo (tonight and Sunday), Edward Watson and Lauren Cuthbertson (Saturday matinée), plus Alina Cojocaru and Johan Kobborg (Saturday evening).
We dropped by the O2 yesterday to watch a stage rehearsal and follow the Company as they put the finishing touches to their first big scale ballet: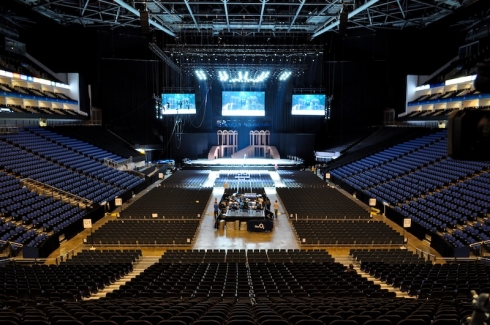 Three giant screens will ensure audiences experience MacMillan's choreography at its most cinematic, with movies by the Ballet Boyz to help bridge any stage-to-screen gaps.
Having just finished ballet class, Edward Watson & Lauren Cuthbertson were trying out steps. They haven't danced Romeo & Juliet together since 2004 and are thrilled to be teaming up again. Lauren says: "It's a dream. Better than we can ever have imagined; it's really lovely that we had this chance to go full circle because when we first danced it there was chemistry but not really a natural fit, so now we feel like it's our time to dance well together!"
Ed strikes his signature "HB pencil-drawn" arabesque:
Ed & "Loz" have recently appeared as very quirky special guests in Bennet Gartside's latest #RomeO2 video blog. Here's their version of the "extreme close-up":
The pair had woken up at 6am for a spot in the BBC Breakfast News and still had a full day ahead, including that evening's general rehearsal. But before "quiet time" Lauren was planning to catch a glimpse of Tamara and Carlos: "I really want to watch [their] rehearsal so I'm going to stay for a bit of Act 1 and nap in the interval. Then I'm going to get something to eat, then hair, make up and go through steps again!"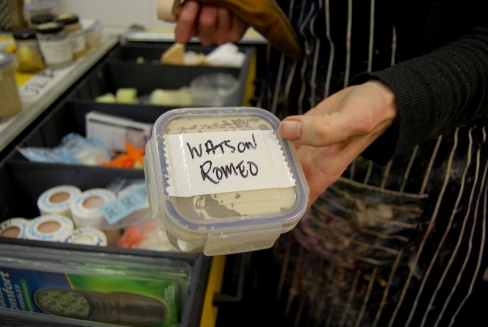 With the stage rehearsal due to start soon, it was time for us to sneak a peek backstage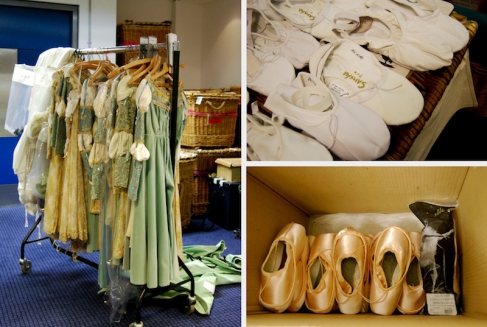 Various ROH departments have set up camp at the O2. Costumes and shoes have been transferred into the building, with stocks of shoe dyes, ribbons, wigs, etc. readily available.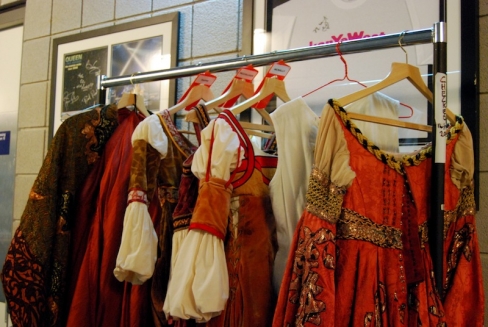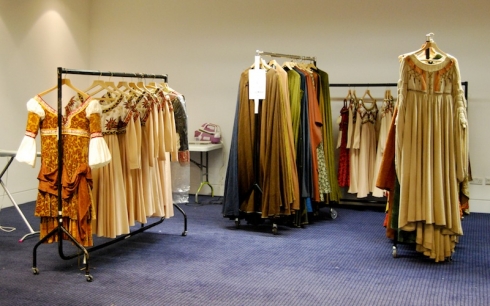 Stage management is all set for this afternoon's rehearsal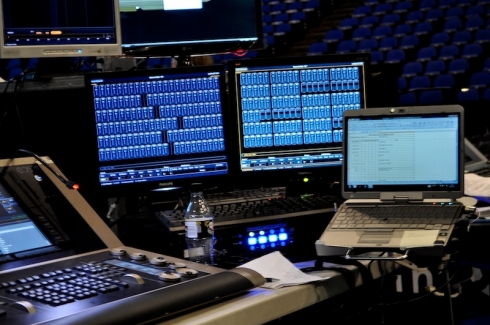 Last minute instructions from AD Monica Mason ahead of the full call. Right: Bennet takes the opportunity to gather material for his series of O2 video blogs.
Montagues vs. Capulets… Swords at the ready!
Left: Thiago Soares as Tybalt (watch him talk about his role here). Right: Gary Avis as Escalus, the Prince of Verona, shames a Capulet.
And… action!
MacMillan's Romeo & Juliet had to be adapted for the arena format, so regular ballet audiences will spot a number of tweaks in the traditional production, including the use of video for certain scene transitions. Lauren gave us an example: "There's a bit where Juliet runs to the altar and it's her last chance to get the courage to take the potion – but here there is no altar – so little things like that you have to suggest"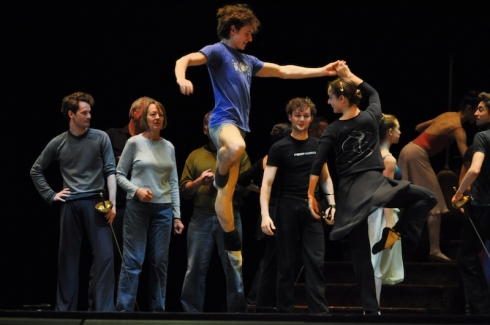 Carlos Acosta's Romeo works the cape…
… while Elizabeth McGorian's Lady Capulet sashays her gown
Tamara Rojo as Juliet
Romeo with his "buddies" Benvolio (Sergei Polunin) and Mercutio (José Martin)
Juliet: "Dear Paris, aren't you a tad underdressed for this ball?"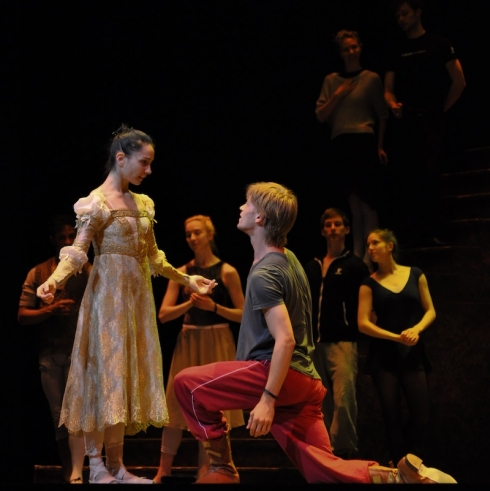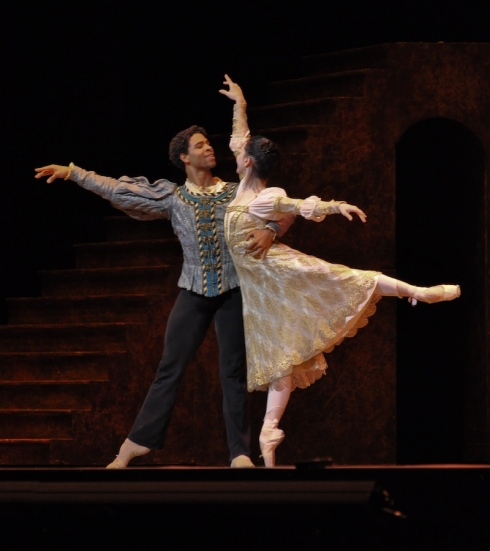 And this is how their first meeting looks on the giant screens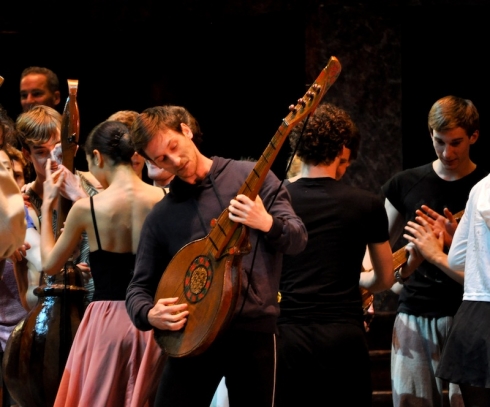 If you've got it, flaunt it!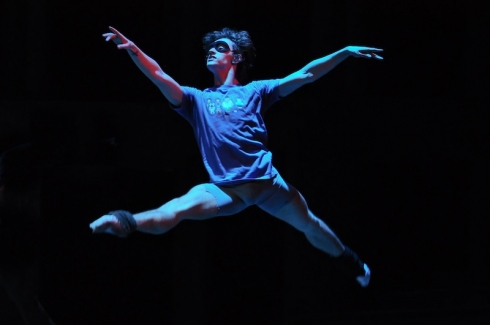 The width of the stage is very impressive. First Soloist Bennet  (aka @Bennet76 on Twitter), who plays Tybalt on Saturday evening, says: "it's actually housing our set quite well. Initially when we got here we thought 'this is quite big', but sometimes doing Romeo and Juliet at the Royal Opera House stage feels quite cramped – especially the ballroom scene so it's nice that it has been pulled out."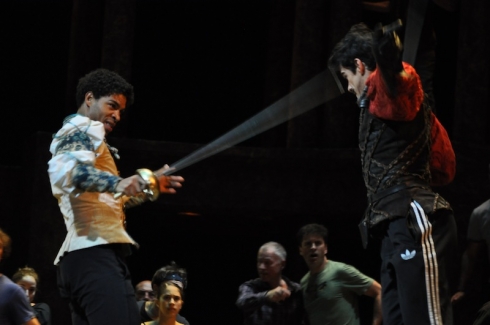 He thinks all this space will give the fights in Act 2 a different energy "We're saying to each other 'chase me!' Because you have to use that width and then when we're moving the crowd moves with us, so you have all that scale."
Bennet's clever mashup of "pop and high culture" in his vlogs has drawn the attention of the New York Times. He is feeling "Very excited. Not at all nervous – because we are used to doing this and, partly, because I don't have to do as much as others – the possibility of performing in front of 12,000 people for me is definitely more exciting than daunting! Maybe I will get more nervous when I see the first night!"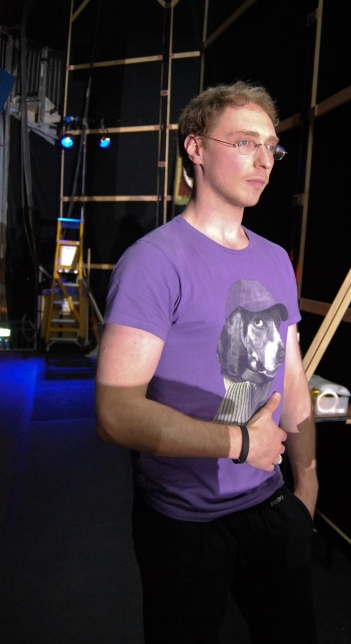 Carlos and Tamara strike a pose. For a full photo album of the pair in rehearsal see our Facebook gallery.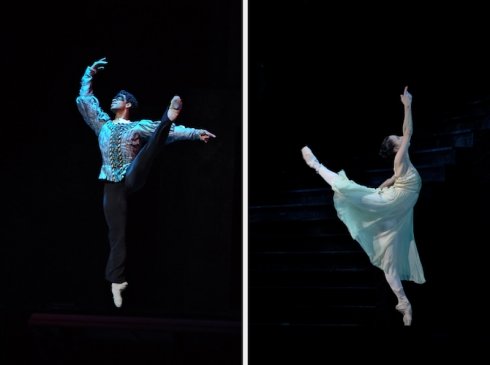 Photographer Tristram Kenton snaps Tamara for a newspaper feature
Tamara captures the O2′s monumental scale on a quiet moment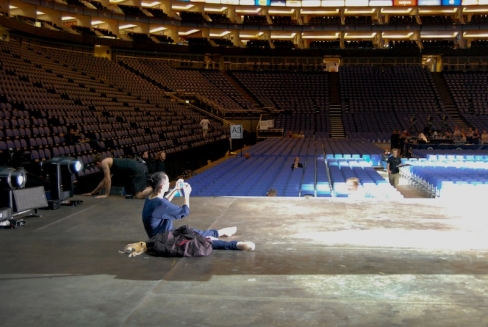 "I think we can run wide and  travel the choreography but as for gestures, the minute they're not true…  they become a bit more "Russian", they look overly pronounced. So that's my opinion. I won't be understating anything but I won't be overstating it. What hits people really is the real stuff." Lauren Cuthbertson (@LondonBallerina) – live from the O2 – on MacMillan's naturalistic choreography.
---
Romeo and Juliet runs at The O2 until 19 June 2011. For further information and to book tickets visit the ROH website.
All photos by The Ballet Bag ©