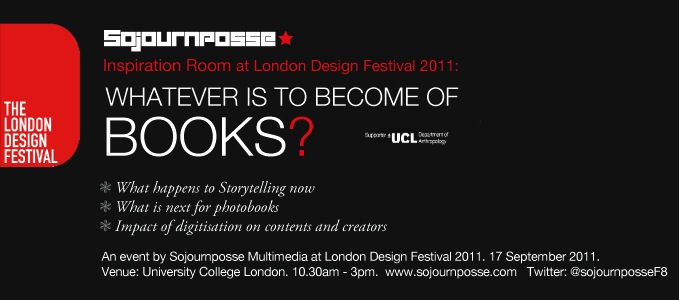 If you are in town this Saturday 17 September, we would love to see you at University College London. As part of The London Design Festival 2011, our friends at Sojournposse will be hosting the seminar "Whatever Is to Become of Books?" and we are one of the guest speakers.
More information:
Five Minutes With: Emilia Spitz and Linda Uruchurtu, The Ballet Bag

Q. What do you think will become of books?


Linda: I think print will remain and ebooks and Kindle (or ebook readers in general) will become "the new paperback". People who value good design, who like their physical libraries and experiencing a book from cover to cover, will keep investing in print and collecting books they love. I have noticed that publishers are increasingly investing in new, revamped and improved hardback editions of the classics, sometimes with funky typography and illustrations. In digital, the trend is for different media crossover, creating new forms of storytelling. In a way, books are evolving and going back to basics at the same time.

Personally, I tend to purchase both Kindle and hardback versions. It is so convenient to pack your iPad for when you're on the go, but when at home I would rather grab my heavy hardback.

Emilia: I agree with Linda. It all seems to be going in the same direction as CDs and vinyls. And it's interesting to note that "indie" or niche bookshops such as Daunt and Persephone, and collector books are doing well again after the big threat of retail giants like Borders (RIP) and Waterstone's.

(…) Read the full Q&A here.
When: 17 September 2011, from 10:30 AM to 3:00 PM
Where: University College London. Gustave Tuck Lecture Theatre, Wilkins Building, UCL Main Campus, Gower Street, WC1E 6BT. Tubes: Euston, Euston Square, Warren Street.
Tickets cost £3 and are available on Eventbrite. £1 of each ticket sale from this non-profit event will go towards a photobook  project which supports the Japan Red Cross Tsunami drive.
Follow updates on Twitter via @sojournposseF8 and/or hashtags #LDF11 and #storyofbooks. Sojournposse is also on Facebook and Google+.