Tis the season to be jolly. Or is it? The end of the year is approaching and, while everyone is getting deep into Nutcracker mode, we are still mulling over a season of epic drama and tragic heroines, including a long run of Manons, a gorgeous new Romeo and Juliet, plus brief encounters with the frail Marguerite from Lady of the Camellias, the doomed Anna Karenina and even the tormented Blanche DuBois.
From classic fairy tales (Swan Lake, La Sylphide) to the extra gritty and dark dramas (Mayerling, Onegin), a good tearjerker is an ideal excuse to curl up in the sofa with a mug of hot cocoa, thus perfect for the dark months of winter.
With the help of our Twitter followers, we assembled a new edition of our NY Mag-inspired approval matrix, this time with they key ingredients for a successful drama ballet. So let's embrace the Grinch within!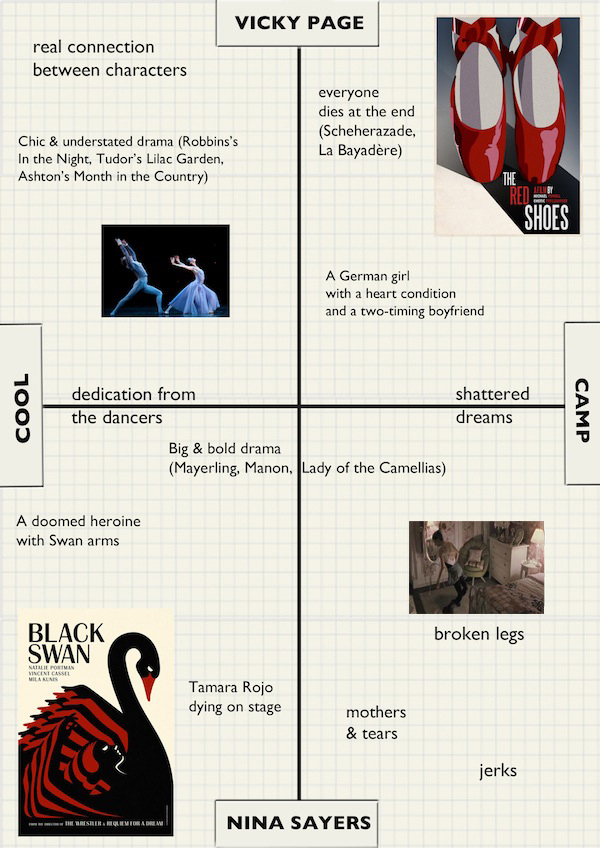 With thanks to everyone on Twitter who sent in suggestions!
---
To celebrate its upcoming anniversary, Yumiko is giving away TWO exclusive Elise leotards (have a look at our current sidebar banner). Lucky winners will receive made to order pieces in the size they wear.
How to enter:
Use comment form below or email us at theballetbag [at] gmail.com by 15 December and let us know:
What is your favorite ballet drama and why?
Entries from all over the globe are welcome. You can send us image/video links if you like. Be creative & good luck.
And do stay tuned for lots of Yumiko in 2012! The company will be celebrating its 10-year anniversary all year long with new models, contests, and giveaways.