Here's a holiday special from our fab US-based guest blogger Brian Mengini:
---
Christmas is a time for families to get together and celebrate; to enjoy each other and share in the love. But for most in ballet, it's slightly different. Christmas means seemingly unending Nutcracker runs, accompanied by seemingly unending rehearsals and shows, maybe 30 or more in a season. This schedule can make it quite difficult for dancers to be with their families and loved ones. That is, unless you happen to be lucky enough to work with your family.
I recently talked to two sets of siblings (and alumni from Central Pennsylvania Youth Ballet/CPYB) - the Cirios from Boston Ballet and the Staffords from New York City Ballet – about working in the same company and the kind of holiday traditions they have: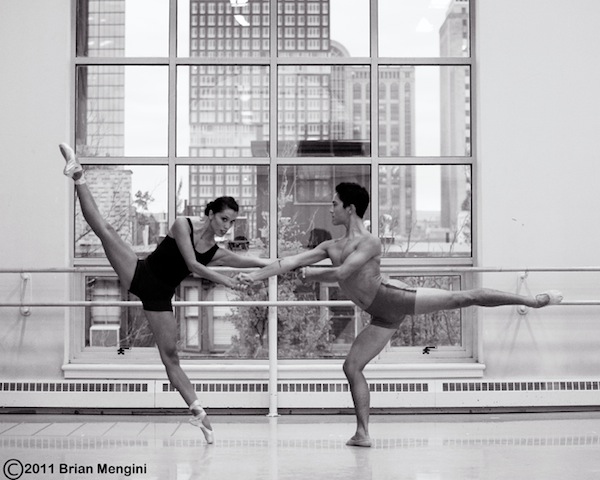 Lia & Jeff
Lia Cirio, a principal with Boston Ballet, danced recreationally until about the age of 13, when her teacher at the time encouraged her to intensify the training and gain more exposure. Interestingly, Lia read an article on how NYCB's Abi Stafford had attended CPYB and that is what led her to join the school. Currently in her 8th year with Boston Ballet, Lia was hired by Mikko Nissenen, initially for the second company (Boston Ballet II), when she was 16. She has also spent a year with the Trey McIntyre Project.
As for her brother Jeff, once he decided to stop playing Game Boy in the hallways of CPYB and start taking some classes, Lia says "We discovered he was basically a prodigy". Or as their mother Mimi explains "not sure he was quite a prodigy, but he had a knack for it." Jeff did not follow his sister into the company immediately. He delved into the competition circuit with great success, taking Bronze at USA IBC (Jackson) in 2006. At around age 15, Jeff was hired for Boston Ballet II, but left a year later to continue training (with Peter Stark) and competing, which led him to earn gold medals at Helsinski and at the World Ballet Competition and various other awards including the Grand Prix award at YAGP and silver at the NFAA Arts Week. Jeff is now a soloist and is currently in his 3rd year at Boston Ballet.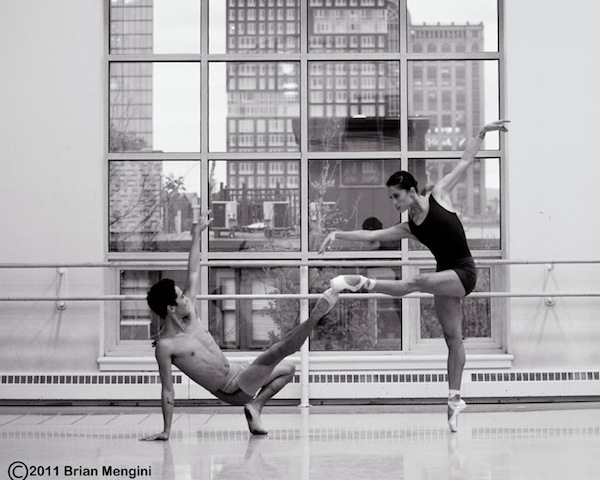 I ask them if brothers and sisters do normally dance pas de deux together. Lia and Jeff say they have never danced a pas together for Boston Ballet, although they have performed in the same works. They have, however, danced together in galas and other events, including the pas from Le Corsaire, Flames of Paris, and even the Coppélia wedding pas, along with several contemporary pieces. Jeff has also choreographed a pas de deux for the two of them, "As One", to selected Bach Cello Suites.
Would they like to dance together in the company? They say that would be hard "because so many of the classical ballets are love stories, which you don't really want to do with your sibling. We have been asked to dance the Grand Pas Classique from Paquita at some point outside Boston Ballet. But we would definitely like to do a Balanchine ballet together. Perhaps Ballo della Regina." Jeff suggests.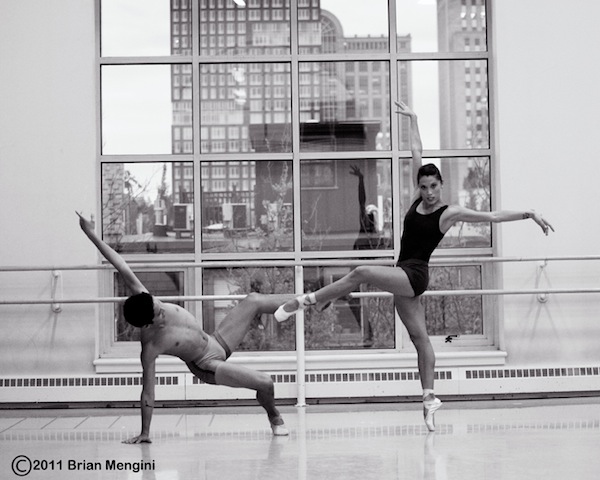 Do they have any other plans or projects in the pipeline? "Actually, yes. We are starting to test the waters for a 'summer company' or a summer residency. We would like to have a small group of dancers and choreographers and offer them work and choreographic opportunities while on break. We would like to co-direct this, and we hope we can make this happen in the immediate future."
Jeff & Lia have been roommates for the last three years. Their mom Mimi is still actively involved in their careers and travels to Boston for just about every program (though not for every show). Their parents and younger brother, Gabriel, travel to Boston every year for Thanksgiving dinner and for the opening night of The Nutcracker. As they don't have much time off, the family usually returns for Christmas to celebrate with them. This year, however, Jeff & Lia will have a short break in Pennsylvania. Their entire family will be gathering at their parents' house and everyone is quite excited. This is their first time at home for the holidays in about 10 years.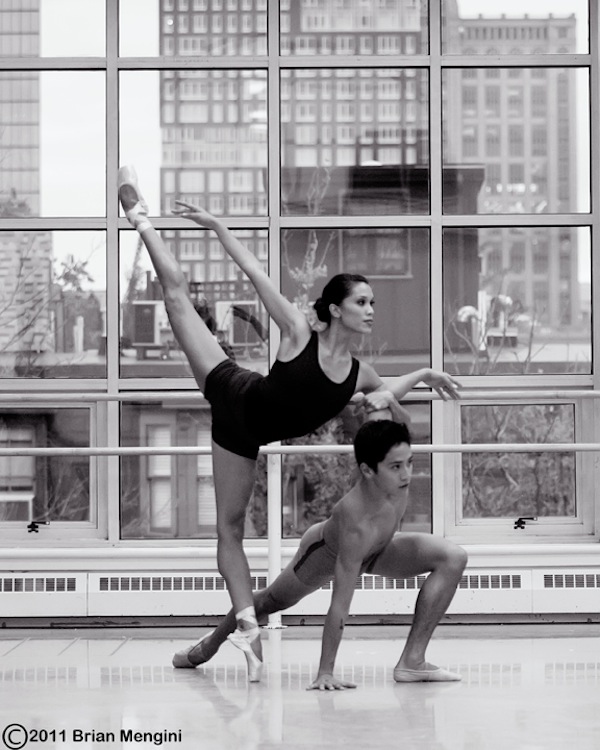 Jon & Abi
Jon & Abi Stafford are both natives of Carlisle, Pennsylvania. Jon started ballet when he was about 8 years old, after seeing his younger sister in class and in performance. He was very much intrigued by the athleticism of it: "I remember watching the older guys and thinking what they were doing was so cool! I wanted to be able to fly around the stage." Having entered the School of American Ballet (SAB) full time in the fall of 1997, he soon joined NYCB as an apprentice and was hired as a member of the corps de ballet in 1999. Jon became a permanent faculty member of the school in 2007.
Abi started her ballet training at CPYB when she was 6. She followed her big brother Jon, joining SAB in the fall of 1998. She became an apprentice with NYCB in November 1999. After becoming a member of the corps de ballet shortly thereafter, Abi continued to rise through the ranks to become a Principal dancer in 2007.
Was there any rivalry or fun competition about who would get in first? I ask. "Not really, I think, because of the age difference. We also both felt a natural progression from the school into the company," Jon says. "I think if we were two sisters, there may have been some type of rivalry. But with us being different genders, we are not up for the same roles" Abi adds. Speaking of roles, have they ever danced a pas de deux together for the company? Abi responds "Yes, many times! We've done Nutcracker, Symphony in C…" to which Jon adds "We've danced together since we were kids. We know each other better than anyone. It really relaxes me. We danced the Pas de Quatre in Swan Lake together and I was really nervous, but just seeing her out there calmed me down."
Unlike the Cirios, the Staffords knew their ultimate goal was to end up together at NYCB. Dancing for the same company makes it much easier for the family to come up and see them. "If we're ever cast in the same ballet, even if it's not a big role, they will be here just because we're together" Jon says. But that doesn't happen very often: "We may be in the same show, between 3 or 4 ballets. However, there have been times where Peter Martins has cast me as Cavalier for Abi as Dewdrop in The Nutcracker."
So what is it like to have a sibling in the same company? Do they pull on each other for artistry or advice? Abi nods "Yeah, we've definitely talked about work to each other… We also haven't known anything else. We went to CPYB together and then the same school up here, so this is how its always been" Jon agrees: "I think it just gives you that sense of familiarity, having someone you know so well here."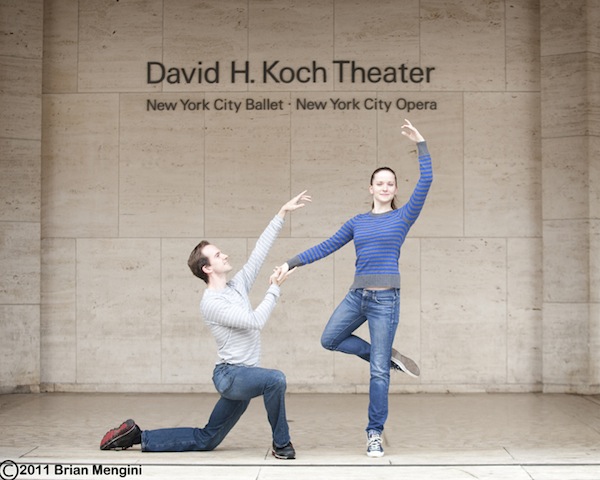 As they work together so much, I try to find out if they spend much time with each other outside of the company: "On occasion Abi will crash at my apartment if there is an early travel day and from time to time, we will go on dates together" says Jon "But with the work schedules, it makes it tough to be together around the holidays." For example, this Thanksgiving, Abi went home but Jon didn't and now it will be the opposite for Christmas.
Are there any ballets, pas de deux that the Staffords would like to do together? Abi responds: "I've never really thought about it." Jon agrees "Yeah, I haven't either. Its' always a pleasant surprise when we get cast together. Maybe Apollo? That would be fun."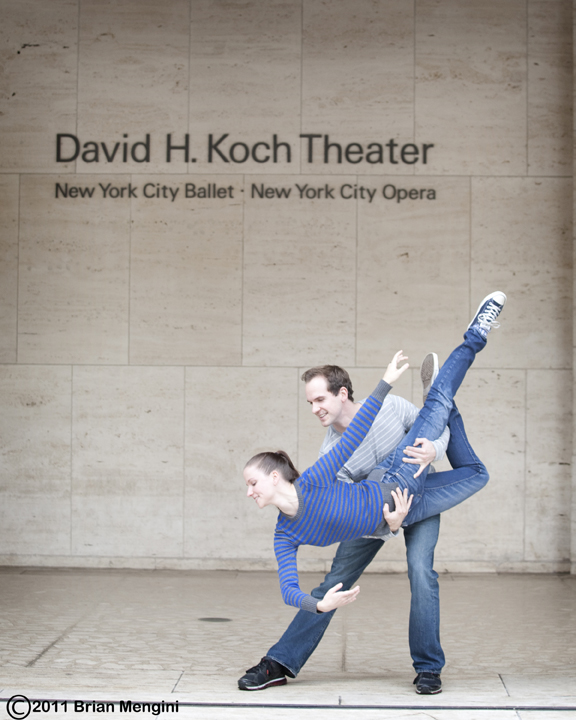 All photos by Brian Mengini © except as indicated above.
---
About the Author:
Photographer Brian Mengini resides in suburban Philadelphia and keeps a studio in Phoenixville, Pennsylvania.  Brian's unending passion for ballet came in the summer of 2007, when the Mann Center asked him to come in and shoot the Royal Ballet's final performance of Swan Lake.  

Since then, his images have appeared in a variety of exhibits and publications including Pointe Magazine and Dance Magazine. 

In June of 2010, Brian started Barre Boys, a website dedicated to the male in ballet with a goal of squashing stereotypes and inspiring more males to pursue ballet. Together with his wife, he has launched Hope Dances, a nonprofit dance outreach program for children with special needs.
See also: