Happy 2012 everyone!
As we promised on Twitter, we are now back on blogging mode.
You may have noticed that we haven't been so active for the last few months. Even though we had an amazing year and have been lucky enough to travel and watch lots of great dance in 2011 (I had a brief stint in New York and Paris, while Linda managed to drop by Copenhagen, Toronto and Hamburg), we've had to scale back our blogging to an average of one to two posts per week.
This is because we have been busy developing an exciting new venture, a creative media consultancy called Lume Labs, putting our energies into getting the business off the ground, planning the new website and, most exciting of all, working with some wonderful clients.
We set up Lume Labs to help arts organisations to create online campaigns and connect with audiences via social media and digital storytelling. Among our first commissions for the year was this fun infographic charting the history and some key facts about Resolution! season, which we prepared for The Place. The infographic has been posted on their website for audiences to interact with and we'd love it if you could pay a visit: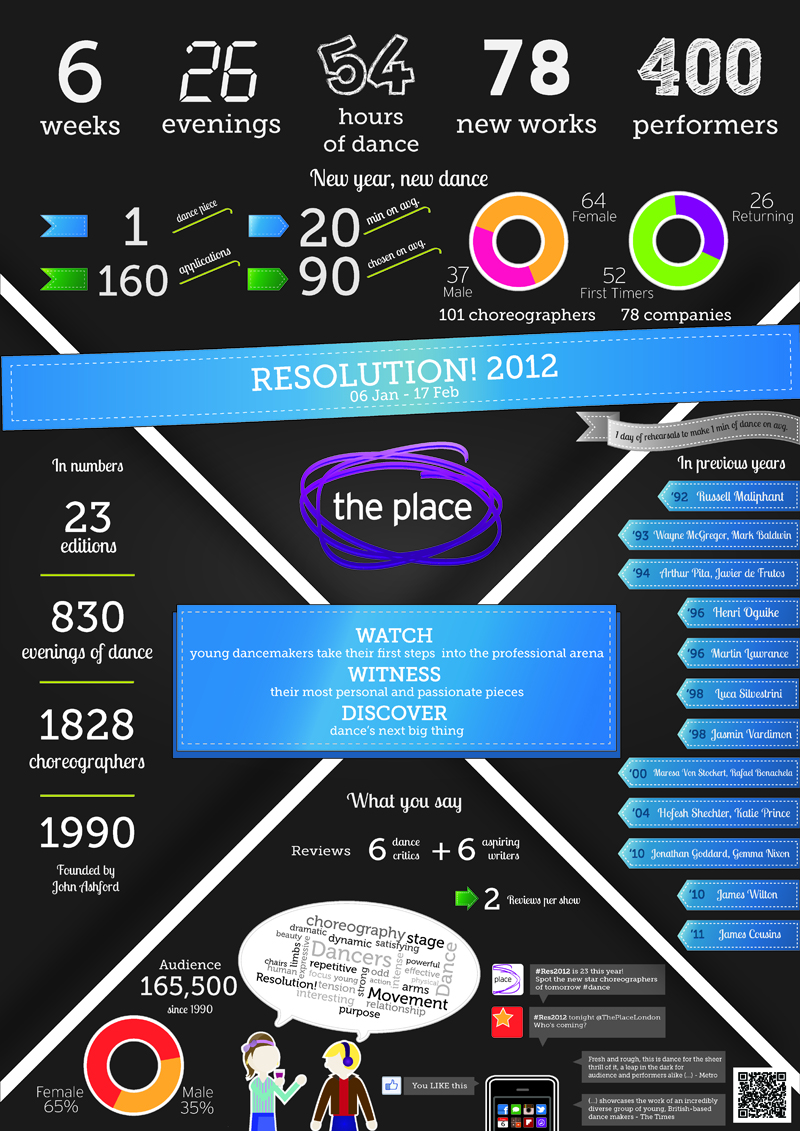 If you're one of our regular readers, you might be wondering: what happens with The Ballet Bag then? Our objective is to carry on: we love watching dance and we find that promoting it here and networking with you all is a great way to test ideas that have got potential.
Besides, we are also lucky to have some wonderful regular contributors: Kris Kosaka (Japan), Brian Mengini (USA) and Wiebke Schuster (Germany) – huge thanks to all of them for helping us with great content. And huge thanks to all of you for keeping us on our toes!
Next stop is Lausanne, where we will be officially blogging and tweeting for the very prestigious Prix. While we count down to February, a shameless plug:
Don't forget to say hello@lumelabs.com if we can help you with a bit of storytelling, blogging, tweeting, facebooking or with creative media in general.
Wishing you all lots of luck in your own projects this year!
---
Yumiko -Â Elise Leotard – Promo Results:
Last month we ran our third Yumiko leotard competition, asking what was your favorite drama ballet and why.
Thanks to everyone who participated. As usual it was tough for us to pick only two answers (thank goodness for Randomizer!) from all the wonderful comments and emails you sent.
We are pleased to announce the winning entries:
Klaus Peter Bernewasser who entered on behalf of his twin daughters
My favorite ballet drama would have to be Swan Lake! It is a breathtaking ballet and is beautiful to watch. Â I remember seeing the ballet with my family for the first time and I must say i was amazed by the entire piece.

I have daughters that dance ballet and it was a wonderful experience to watch it with them. They told me that it's their dream role out of all ballets and luckily they have the chance to dance it next year with their school.

It amazes me that Swan Lake was the first ballet i saw with my two daughters and now I will be seeing them dancing it on stage. They are already trying to decide if they want to be the white or black swan. They are twins so they will be sharing the stage and I'm curious to see if the audience will notice that it isn't the same person dancing.
and Lorry, who made an excellent case for Neumeier's The Little Mermaid
I would love to say Onegin. The story is so complete allowing both main characters to grow & change, Cranko masterfully stayed true to the narrative, the music is beautiful, and the drama is rich and thick. When Onegin lays himself at Tatiana's feet in the final scene, I want to jump up in my seat and cry "don't send him away, don't break his heart, his is SO sorry!" the only thing is that I haven't actually seen the whole ballet live so I have a hard time actually naming it as my favorite. (Although I have seen Manuel Legris & Maria Eichwald dance the final scene & now I'm obsessed with it and them!)

Instead I'm going with The Little Mermaid. I was sure that I wasn't going to like it when I saw SF Ballet perform it, I didn't even like Neumeier work at the time (although I'm beginning to change my mind). But this ballet is immense… unfortunately for too many of us the name The Little Mermaid will conjure up disney thoughts but the original story is quite brutal and tragic and Neumeier stays with the Hans Christian Andersen narrative. The ballet is heart wrenching without being melodramatic, a true story of unrequited love that doesn't get bogged down with trying to be both a love story and a tragedy at the same time. Additionally, the ballet is obviously physically demanding but never succumbs to throwing around turns and jumps just to garner some additional applause. The Little Mermaid is a thoroughly gorgeous and completely satisfying ballet.
Do stay tuned for more Yumiko promotions in 2012. The Company is celebrating its 10-year anniversary and there will be plenty more goodies up for grabs throughout the year!