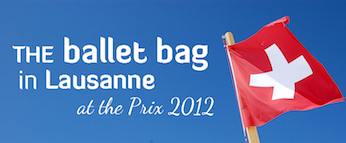 The 40th Prix de Lausanne kicked off on Monday. During Prix week we are officially guest tweeting and reporting from the field for the @prixdelausanne Twitter account, while our colleagues at Dansomanie will be tweeting in French from @pdl_tweets.
We are looking forward to sharing – here and all around our social media channels -Â the many stories we'll be uncovering. For that, we are lucky to have the help of our regular guest blogger Wiebke Schuster, who is also here in Lausanne.
Here is Wiebke's first entry from her own Prix diary.
We hope you enjoy it!
---
Monday, 30 January 2012
Journeys and First Impressions
Dancers are travelers. They are Frequent Flyers, Eurorailers and will navigate the most complicated subway systems on this planet to get to an audition or a performance. For a dancer, packing light is key: you might find yourself in a foreign country having just missed the train conductor's announcement of your station. What to do? No problem: dancers can "leap" out at a moment's notice. My seven hour trip from Munich to Lausanne is nothing compared to the personal journeys of some of the candidates in this 40th edition of the Prix de Lausanne: 69 dancers between the ages of 15 and 18 who come from all continents, with Japan the most frequently represented nation (19 candidates), followed by China and Brazil (8 candidates each).
In addition to the pressure of competing against your most talented peers, these youngsters also have to tackle jet lag and in spite of fatigue, find their center on pointe shoes, selling the illusion of effortlessness to a jury of nine highly distinguished company directors and dancers (former Royal Ballet principals Darcey Bussell and Miyako Yoshida grace the panel this year). First impressions count and the competition started full throttle today with Jury-observed Classical Ballet classes for both age groups, women and men. Jitters were put aside, language barriers were beginning to crumble (some candidates are supported by translators in class, who quickly step onto the dance floor to articulate corrections) and there was a whole lot of ferocious brisée-ing and high energy sauté-ing observed in men's class.
This week, the city of Lausanne, nestled among the picturesque Lake Genèva is the capital of young dance. Let's see what these five days bring… besides hard work, a well-deserved focus on the art of ballet and its devotees, hopefully some future stars in the making. In the words of Patrick Armand who was teaching the men's class today: "Guys, you can smile a little bit. It is JUST ballet after all."
---
About the Author:
Wiebke Schuster currently lives in Munich. She completed her Bachelor of Arts (Honours) in Dance Theatre and studied Arts Administration at the Limón Dance Company in New York. She is a regular contributor to the Bavarian State Ballet Blog.