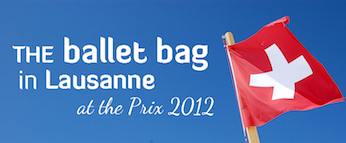 Wednesday, 1 February 2012
Raymondas, Kitris, Basilios – OH MY! Temperatures in Lausanne dipped below zero today, but the competition at the Beaulieu Theater is heating up: only one more day until the 20 finalists are announced.
On Tuesday morning, the B-girls (ages 17 -18) "let loose" with former NYCB member Todd Williams in contemporary class. One minute they were seen charging across the floor (backwards!) accompanied by percussion from Prix musician Paul Pavey, the next, they were exploring the nuances of a gestural phrase to ambient piano and vocals. One of the particular challenges in contemporary is to make every little detail count, be it the flick of a wrist or simply a moment of stillness.
The genre seemed more familiar to some candidates than to others – but that didn't stop the group from enjoying themselves. After all, these talents are all in this together and winning the Prix isn't necessarily the main objective: even if the candidates are not selected to participate in the finals, they are invited to a networking forum, where they meet with artistic staff from an impressive roster of Prix de Lausanne partner schools and companies to receive feedback and possibly discuss scholarships and other opportunities.
Over the last two days, all of the candidates had a chance to test drive their classical variations on the main stage without the jury present. The main obstacle is Beaulieu Theater's famous 3.5% raked stage (meaning: there is a decline of 35 cm on a distance of 10 meters!). In other words, if you parked your car on this stage, you'd better remember to put the handbrake on, otherwise it would roll on down rather quickly.
Needless to say, figuring out how to use the laws of physics to one's advantage was quite the challenge at first. The boys need to adapt their traveling jumps and the girls their pirouettes on pointe. By the second time around, the confidence started to return. It helps that on Wednesday, each candidate also received one on one attention. To even the playing field, each gets 6 minutes of coaching time from two former Paris Opera Ballet Étoiles.
Patrick Armand coached the men and Monique Loudières assisted the ladies in finding their center, proper alignment and artistry, the story behind the characters portrayed through dance. "Quite the actress this young lady!" she said in admiration of 16-year old Miao Ge's adorable interpretation of the Swanilda variation.
It all comes down to good preparation it seems: choosing the right variation to showcase a dancer's strength and personality. Are you spunky and vivacious? A Kitri then perhaps. If you are blessed with a quiet but regal confidence like Spanish candidate Anna Fontseca Casasola, then you might consider Raymonda's Act 3 "clapping" variation. Clap twice if you're a ballerina! Anna, with her mature poise, certainly looked like one in the making.
It is truly amazing to see how quickly these youngsters apply intricate corrections. Their own translators are also able to demonstrate bending, pointing their feet and running around the stage to show spacing issues, so no corrections are lost in translation at the Prix!
The caliber of talent present here in Lausanne this week is rare, so expectations are high and nerves are fluttering. It all leads up to Thursday and Friday when the Jury record their final marks for contemporary variations on stage and the 20 finalists are announced in the afternoon.
So long from the world's Capital of Young Dance,
Wiebke
---
About the Author:
Wiebke Schuster currently lives in Munich. She completed her Bachelor of Arts (Honours) in Dance Theatre and studied Arts Administration at the Limón Dance Company in New York. She is a regular contributor to the Bavarian State Ballet Blog. Follow her on Twitter @wiebela