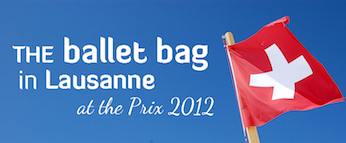 The Prix de Lausanne is so much more than a ballet competition: it's a huge celebration of dance that brings together artists from all around the world, including former Prix participants, staff and students who are hoping to take the next step into their careers.
This year we had the opportunity to experience its 40th anniversary edition on location. We were able to go backstage and see, from different angles, the many stories that unfold during Prix week:
The President – Beth Krasna
We try to open up the opportunity to as many dancers as we can to come to the Prix. We do the first qualifying round on DVD. All they have to do is film themselves in class and then a group of artistic staff and members of the dance community evaluate the DVD and select about 80 of them.
We truly believe we give them the best possible experience once they are here. Whether they get to the finals or not, the things they will learn and the experience and network that they will take away will be invaluable. Many of our alumni give testimonials to say that the Prix experience is life changing, not only because it puts their foot on the ladder for a professional career, but also just from seeing everybody else, their technique and how they approach it.
You might be the best person in class in your school but when you come here you see other people your age who are just as passionate as you are. And these people will be the basis of your friends and network within the ballet community. If you go to a competition and all you get is your three minutes on stage, you don't really get that same level of identification with the organisation. You see that when you look at the jury and the coaches: they are all prize winners. And it's even more special this year as it's our 40th anniversary so we tried to make it an all-prize winner affair, nearly all here are former prize winners, so they've been through it and they want to give back. It's such a supportive environment: they are not judging on performance, they are looking at the potential in these candidates.
You will see throughout the week that the kids progress, that they take things from the teaching and coaching, from a different way of working. Here they are treated as young artists. They don't have their usual teachers, so they have to take themselves into charge.
It's a niche cliché to say that we are here to look for the "stars of tomorrow". In reality, we are trying to help kids who want to have a professional career in dance. Not all of them will be stars, but they will give it their best shot. If they do come here they are focused on trying for a professional career.
The Coach – Patrick Armand
On Day 1 of the Prix, I wish we could have one class before the jury starts marking, because as it is, the jury is already observing from the moment I teach the first class, so the kids can get really tense and it takes them a while to get used to it. You can see the difference on Day 2 on Tuesday: I teach the same class but by then we are starting to know each other, they feel more comfortable and they look better. Depending on which school they are coming from, they might do the same thing all the time and suddenly they have a new teacher and they might initially panic a little.
But for the jury it is important to see them as early as possible so they get an idea of what's going on before they start marking. You can see that it is not enough to be a very good dancer, that the brain needs to function. Diversity is important: to be able to go from classical to contemporary. Sometimes these kids come and they have never done contemporary but then they discover that they have a very good quality of movement and can go all the way. And it is nice to see the openness because when you go to a company these days, you have to be versatile. You can't just do one thing and nothing else.
On coaching classical variations
As a Prix coach, you are not going to change anything even though sometimes to my taste, the variation might be quite unmusical. You can only help with some details: the way they present themselves, the way they are going to use the space, how to get used to the theatre's rake. You can't give too much information because otherwise they don't know what to do the next day. You have to keep it clear so they can look the best they can in a short time. So less information is better. I think my role here is to make them feel as comfortable as they can, so they don't feel that pressure of competition. My role is to keep them calm and for them to enjoy the week as much as they can.
This year the Prix has added new solos, because normally there were only five to choose from. So for the men for instance, they have added the Grand Pas Classique, Nutcracker Prince, La Sylphide Act II, Solor from La Bayadère… there's much more and it is also better for the audience, so they don't get many of the same one.
On the overall experience
The Prix is a great experience even if you don't win, since you have the network forum which means all candidates still have the chance to get into a great school. Sometimes people also come to realise that ballet is not for them, that's why I think it is the best competition around. If you ask anyone who as been in the Prix, they will tell you that it has changed their careers.
The Candidates
Thamires Chuvas – 16 years old – Brazil's Escola Maria Olenewa  (associated with Rio de Janeiro's Theatro Municipal) and Prix Finalist
It's my first time here. This competition is very famous in Brazil: many people want to come because it's a huge opportunity for professional dancers. Our friend Mayara Magri won last year and this got us all hugely excited and eager to come. Luckily we managed to, because we know many friends who didn't pass the video selection.
I am loving it, it's really great to be here. There are eight of us which must be one of the biggest Brazilian groups to date. Mayara's success has paved the way for Brazilians to show themselves here. I love dancing in Brazil but I would like to try to dance abroad. This competition gives us a real window of opportunity: there are many dance companies here who are in a position to offer scholarships. My dream schools are the Royal Ballet School and the Paris Opera. My best friend came last year and even though he wasn't shortlisted for the finals he still got offered a scholarship to join the Royal Ballet School.
On choosing variations
The school director gave us a list of three variations to choose from and we picked the best fit with her help: in my case it was the Lilac Fairy in the Russian version which is slower and very musical. For contemporary, there were four to choose from and, once we had made our choice, we started working on it with a video, as we were not familiar with the choreography.
On favorite dancers & companies
I really look up to Roberta Marquez who was in the same school where I trained, also Thiago Soares and now Mayara. It's so wonderful to have Brazil well represented in the dance scene abroad! Besides the Royal Ballet I really like San Francisco Ballet and ABT. I am a huge fan of Marianela Nuñez, Alina Cojocaru and many others. I like to admire different dancers for their own individual qualities. My dream partner would be Carlos Acosta because he's just wonderful.
Larissa Santos – 18 years old – Brazil's Centro de Dança Rio
My experience has been great so far. I was more nervous before arriving here. I was watching YouTube videos of previous years and started to worry, but now I am relaxing. I see that I need to work hard, take the classes, focus and this is helping me relax. I am loving the teachers and coaches! The contemporary coaching is very important because these are variations we are entirely unfamiliar with: there are so many details which are hard to pick up from just watching the videos. Certain nuances in movement. And the classical coaching ties in a lot with the corrections our local teachers give.
On favorite dancers
I love Svetlana Zakharova! I dream of seeing her in live performance and I have a huge photo album on my computer which is entirely dedicated to her. I am a super fan! I also like Alina Cojocaru and the legendary Natalia Makharova.
Livia Gil – 17 years old – Brazil's Escola Maria Olenewa (associated with Rio de Janeiro's Theatro Municipal)
It's such a great experience. Besides learning lots of new languages in ballet we are also networking with dancers from other countries, being in touch with so many different cultures is very inspiring. We are learning lots!
I danced the Kitri variation at the Boston competition in April last year and I decided to also dance it here because my coaches told me that it looks good and it's the one I feel most secure in. I feel better prepared now. Since Boston I can already feel a difference: I had never left the country to dance before, so there's a huge difference now as having that experience prepared me very well to come here. This first step in the competition circuit really helped us broaden our minds and get to the next level.
On favorite dancers
I admire Alina Cojocaru, Tamara Rojo, Marianela Nuñez and Dorothée Gilbert, the latter because she's got a really clean technique but also unique artistry. She always reminds me that dance is not just about gymnastics, but first and foremost about artistry. I went to see all her performances when she guested in Brazil last season.
The dance scene in Brazil
I think Brazilian ballet continues to evolve. Brazil has always been a breeding ground for classical dancers. We continue to "export" many dancers, but now there's also internal growth and the public is starting to discover different styles of dance. It is important that some of us stay there and I know several dancers who want to stay and help dance evolve in Brazil. I hope that Brazilian classical dance will continue to grow in popularity.
The Video Bloggers РKathy Bradney and Igor Piovano, former principal dancers with B̩jart Ballet
Igor: It took us 2 years to learn to program, to edit properly, to train so we wouldn't need to think about what we were doing, just about 'how we want to do it'. But when we started filming, it went very fast, because people who knew us as dancers were keen to work with us. When we film a performance – or a videoblog – our clients don't need to tell us what we have to do beforehand: we arrive and for us what we see via the camera is instinctive.
Kathy: We have an understanding of the movement. We know when someone will move downwards, etc. We also do editing with the music. The musicality for us is very important, for instance, when there's a change of image in the music and not in the middle of a phrase.
On choosing featured dancers and editing
Igor: There are many things to be considered. The audience is important, the personality of the dancer, the technique. The best is to have a very good dancer, with great personality, from a country with a big following. So even if they can't speak English, many people will understand them in their native language. And we need to pick both boys and girls.
Kathy: We talk to several candidates. We choose five that we follow every day and then we change one or two, so we interview more than five on the first day and then we decide at that point on the personality and the technique.
Igor: That has been the format of the videoblogs for the last two years. We have also added "who is on today": it could be a dancer, a choreographer, a member of the jury, teacher. Something different, to show the different stories occurring during the week at the Prix.
Kathy: There are seven videoblogs every day and 42 in total. In terms of hours of footage we had about 4 hours yesterday, slightly less today. Every day we capture the footage into the computer and start editing in the evening. Last night, I finished at 3:00 am. Igor finished at 4:00 in the morning. It's an intense week!
Follow the Prix de Lausanne on: