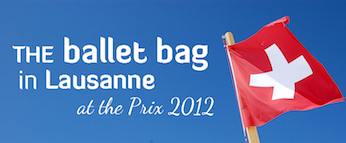 Saturday, 4 February 2012
Leave it all on the (dance) floor!
Having observed classical and contemporary classes (each counts for a quarter of the total score) the day prior, the Jury left the candidates on their own to warm up. Some used the raked studio space, others spent time in the warm-up area backstage, wrapped up in their favorite comfy gear, headphones on while going through barre exercises.
It seems like nothing and no one in the world could possibly disturb these candidates. They have been in the spotlight all week long, with most Prix sessions open to the local public. The city of Lausanne is surely aware that something special is happening at the moment: billboards around town showcase photographs of former candidates and, while sitting on the bus this morning, I discovered that the city offers commuters takeaway "Dance Plans" instead of bus maps.
This is a dance-aware city – one of the local metro exits directs me towards the contemporary Compagnie Philipe Saire – so the candidates at the Prix de Lausanne are constantly in the eye of public, press and dance VIPs from around the globe. You never know who you might bump into, which opportunity might be lurking around the corner. Like in all business endeavors, networking is key and the Prix de Lausanne takes it upon itself to help the non-finalists, who participate in a ballet class observed by some of the most prestigious ballet schools and companies worldwide. They have yet another chance to leave it all on the floor and to be looked at.
Meanwhile, coaching continued on stage with Bern:Ballet Artistic Director Cathy Marston tending to the girls with her Traces solo (by far the most popular variation among the candidates with 21 picks). Though the musicality is particularly tricky, Ms. Marston found ways to let the girls in on the intentions and imagery she used while creating, to help them find their 'inner flamenco dancer' or channel some 'playground memories'. The men were also very focused, with Rambert's Pieter Symonds, exploring contrasting dynamics, liquid articulation of the spine and playing with risk.
Since 2008 the Prix has eschewed the semi-final round in favor of more individual, one on one time so all candidates had additional classical coaching later that afternoon. I dropped in on the Lilac Fairies, all looking stunningly gracious and mature. The 15-year-old Katherine Higgins (U.S.) had her long limbs under complete control but stayed beyond her allocated time to listen to Ms. Loudières correct her colleagues.
Thamires Chuvas (Brazil) showed the spirit of a true professional as she worked through a painful hip injury that day: she marked her variations with crystal clear special intention. We also found out that the Prix de Lausanne (a proud 40 years old) wasn't the only birthday child here as "Kitri" Jae Eun Jung (South Korea) turned 18. Reason enough for her translator to start a happy birthday sing-off with the audience and coach Monique Loudières.
On Friday, the 69 teenagers traded their classroom attire (Prix dress code: solid-colored, no-sleeve leotard, pink tights and no hair accessories or jewelry for the girls, black or white tights with white shirt for the boys) for full on tutus and tiaras, with oriental wear à la Solor, a few Scottish skirts and vests for the boys! Each candidate performed his or her classical and contemporary solo for the jury to record and calculate their final marks.
At 6:30 pm sharp the results were posted on a screen in the warm-up area. One could feel the nervous anticipation of the power point sheet which then appeared on the screen. What followed were screams of excitement and surprise, many hugs or the silence of those not selected, some tears even, which were gut wrenching to watch. But family, newfound friends and colleagues were there to comfort those who needed it.
During Saturday's final, the 20 shortlisted candidates put their best feet forward. "Audience favorite" winner Hannah Bettes brought the house down with both her performances and Japan's Madoka Sugai made for a graceful and most deserving overall winner. Students of the Royal Danish Ballet School and Royal Ballet School with former Prix winner, Mayara Magri, performed during the interlude.
A birthday cake for the Prix made up of macarons of all colors was attacked by the candidates and their families at the post-show cocktail. Mingling with the candidates were some members of the jury, teachers and coaches, as well as one or other ballet VIPs who had come to perform in the Prix's Anniversary Gala on Sunday.
Over the course of this week, the candidates dealt with standing in the public spotlight, disappointment and quick recovery in order to seize the next opportunity. They faced challenges like a sharply raked stage and turned these into a "make-it-work" moment, dealing with fatigue and injury. Nothing that a dancer doesn't face every day, right?
Just all of it condensed in one short week. One week that will surely change the path of not only the 8 scholarship winners (who receive one year of free tuition, room & board at a partner school of the Prix), but also of 23 other candidates who have received offers from schools and companies on a sheet of paper which had been handed out earlier that day. It is now up to them to decide where their talent takes them. I for one, can't wait to hear what the Prix "class of 2012" does next.
And with the Prix's solid presence on social media, their videoblogs and worldwide live streaming of Finals, there are probably some talented dancers out there who –  inspired by this year's candidates – are taping their video submissions for the 2012 pre-selections at this very moment.
See you next year in Lausanne,
Wiebke
---
About the Author:
Wiebke Schuster currently lives in Munich. She completed her Bachelor of Arts (Honours) in Dance Theatre and studied Arts Administration at the Limón Dance Company in New York. She is a regular contributor to the Bavarian State Ballet Blog. Follow her on Twitter @wiebela