The last time I wrote, I was sitting watching rehearsals for the season's two final programmes. Once again, I write while watching rehearsals. This time as a corps de ballet member instead of an apprentice. With two repertories under our belt, the company is in full swing with no intention of slowing down anytime soon. We opened the season with our artistic director Stanton Welch's passionate fatal love story Madame Butterfly, and his abstract contemporary ballet Clear. We then moved on to Julia Adam's Ketubah which depicts a joyous Jewish wedding, Twyla Tharp's Brahms Haydn Variations which showcased a cast of 30 dancers and the world premiere of Azsure Barton's Angular Momentum. I had the privilege of dancing in Barton's piece and being a part of such a uniquely rewarding creative process. Seeing that the company is always moving at hyper speed but one that always pushes us to be better and to reach new limits, it seems appropriate that the title of the work was Angular Momentum.
This hyper speed always prompts the question: how can we put numerous ballets on stage, of varying styles with such a high level of technique, so swiftly? I didn't realize it then, but every day I arrived for a new stage of improving my technique as an Houston Ballet II dancer, I was subsequently training my capacity to handle stress, long work days, and multiple ballets. The workload we dealt with on a daily basis was sculpting me both as a dancer and as a person, allowing me to handle the life of a company member. I've often compared the company to an iceberg (NOT a Titanic reference at ALL). The final product the audience sees is the tip, while the numerous hours of training and rehearsals would be the bottom of the iceberg. It is this unseen part that allows dancers to handle the rapid speed at which our schedule moves. A huge part of my personal iceberg.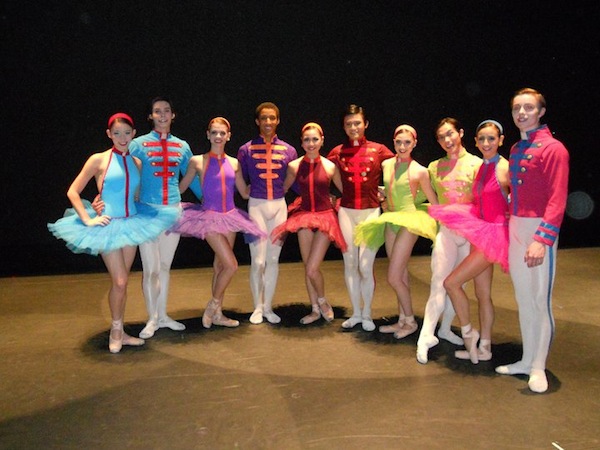 Houston Ballet's second company, where I started, is a constant balancing act. Yes we are balancing by pulling up out of our hips, lengthening behind our knees, and shaping our working legs like Claudio Muñoz demands, but we are also balancing the many performance-related obligations required of us. No task seemed to test the dancers of HBII more so than our touring schedule. Over the course of my time with the second company we toured to Orange County, California, South Carolina, Louisiana, Texas and Florida. We performed seven shows in ten days in Wisconsin, Missouri and Minnesota, Budapest and Switzerland. Ironically my first tour with HBII was to my hometown in New Hampshire at the college where my Dad teaches. I had just begun to adapt to a "typical" HBII workload, so when a tour came about, it seemed like we were entering dance Olympics.
In February of 2011 we went on tour to Budapest where I was performing Le Corsaire Pas and a contemporary Pas de Deux. During the same time, the main company was rehearsing Sleeping Beauty which I was cast in. For about a week, I arrived to dance at 9 am and took class until 10:30 am, since the company's class finished at 11:30am, I would run Le Corsaire for about an hour. From 11:45 am – 2:50 pm I would be called into Sleeping Beauty. When the company went on their lunch break, I would work with Claudio on the contemporary Pas. The company reconvened at 3:50 pm and finished at 6:45 pm once again rehearsing Sleeping Beauty. This was the daily schedule the entire second company had to juggle while on tour. At the time you think of it as "crazy", but as crazy as it sounds, it honestly makes so much sense and creates a situation that you will inevitably evolve from. Having to constantly switch rehearsals tests your ability to remember corrections, and quite literally keeps you on your toes at all times. There are days in the company where you will rehearse 6 hours and 6 different ballets, and you are expected to be able to switch styles and remember specific corrections with every rehearsal. I can confidently say that if it were not for HBII, I wouldn't have been able to succeed in coping with high demands.
Another testing experience was the tour to Guatemala in November of 2011. It was my first international tour and a huge milestone for Houston Ballet II: we were taking 4 ballets, 10 dancers, we had 2 shows and the dancers were performing in every single ballet each night. Besides experiencing the beautiful scenery and culture, no site was more alarming than the oxygen tank sitting stage right as we walked onto the stage. Never once had we thought about change in altitude as we rehearsed for hours back in Houston. We thought it wouldn't be necessary, but after our dress rehearsal which was the same day as our first performance, we were at that machine every chance we had! I know dancers are prone to dramatic tendencies, but this certain situation was every bit reality. After variations or large group numbers there would be a line waiting to get oxygen. This experience was testing me both physically (which I expected) and mentally. Over the course of the tour, I came to see the importance of focus. When I focused on one ballet at a time rather than dreading the one right after, I was able to finish each performance.
The use of focus is vital in a company setting. The task of learning ballets in 2 weeks and performing different ballets every night requires a tremendous amount of focus. Every day I took class with Claudio in HBII, he would always show the combination once and then randomly pick a student to demonstrate the exercise. The pure fear of getting it wrong fuelled me to pick up the combinations at a rapid pace. This has stayed with me so far in the company, allowing me to pick up new choreography or notice subtle qualities and nuances that might help me to make the steps my own. If your brain doesn't understand or know what to do, how will you be able to tell your body what to do? While rehearsing and performing on tour, you begin to live in the present and slowly start to stop worrying about what is yet to come. Though it is easier said than done, HBII taught me to work as hard as you can each day rather than conserve energy in the hope of having built up enough for the final performance. Learning to step into each new rehearsal as it is your first of the day is important when building up stamina.
When my second year in Houston Ballet Academy started, I arrived with a much better understanding of who I was as a person and as a dancer. I had thought that all I had been learning were technical tools, but in fact, my newly acquired set of mental tools would prove to be the most vital. The physical stamina was there, but it was my mental stamina that would be tested as I prepared for the Prix de Lausanne.
To be continued…
---
Harper Watters was born in Atlanta, Georgia and grew up in Dover, New Hampshire where he began his dance training at the Portsmouth School of Ballet. To further his education, he auditioned and was accepted on scholarship to attend the Walnut Hill School for the Arts. He has attended both Washington Ballet and Houston Ballet Summer Intensives on full scholarship. Harper joined Houston Ballet II in 2009 and was awarded the contemporary dance prize at the 2011 Prix de Lausanne. He is now in the corps de ballet of Houston Ballet.
Follow Harper on Twitter: @Harper_Watters