"Always be knolling", says American sculptor Tom Sachs. Knolling is the art of sorting out objects in an organized way, recently made famous by such digital projects as The Burning House and Things Organized Neatly. Over here we like things neat, so we could not pass up the opportunity to try our hand at knolling with dancers's bags on a recent visit to the HQ of one of our very favorite ballet companies, Ballet Black. Here's the result:

Senior artist Cira Robinson earned an honourable mention in Pointe Magazine's "Favourite Performances of 2009" for her performance in Antonia Franceschi's dance theatre piece, Pop8. She also teaches regularly at the Ballet Black Junior School. You can tell pink is Cira's favorite color:
Arnicare
Tea Towel & pastry roll – not for cooking!
Rosin
As the longest serving member of Ballet Black, senior artist Damien Johnson has been featured in a wide range of works by choreographers that include Irek Mukhamedov, Antonia Franceschi, Liam Scarlett, Richard Alston and Bawren Tavaziva. He created the title role of Orpheus in Will Tuckett's 2011 production for Ballet Black. We love it that Damien had an "I heart Ballet Black" t-shirt in his bag (we wish these were available to purchase):
Gum
Green leg warmers
Lots of green gadgets (his fave colour!)

One of the first Company Apprentices (2010), junior artist Kanika Carr trained at the Central School of Ballet, where she worked with choreographers like Christopher Marney, Kit Holder and Christopher Bruce. Kanika's pointes had just been shellac'd and were drying out at Ballet Black's sunny Marylebone studio: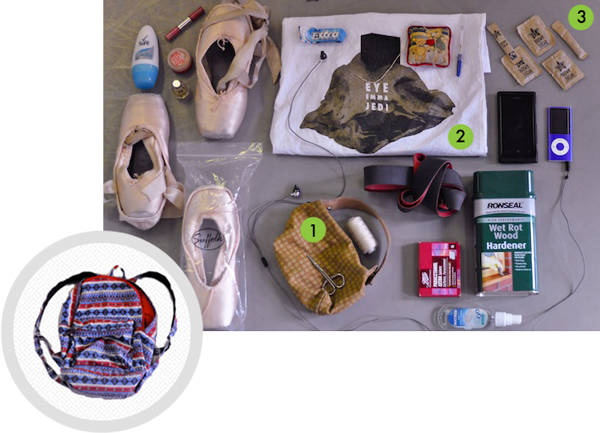 Sewing kit
Cool t-shirt
Little packs of sugar to sweeten drinks on the go

Senior artist Jazmon (Jazz) Voss hails from Utica, New York. Jazz received an honourable mention in Pointe Magazine's "Favourite Performances of 2009" for his performance in Antonia Franceschi's dance theatre piece, Pop8. Spot us below, reflected in Jazz's very cool shades:
Back support
Tube pass
Loose change

Jacob Wye is a first year apprentice with Ballet Black. In 2012, he received the Classical Ballet Award from Central School and danced at multiple venues for the London 2012 Olympics including a solo at the Wembley Arena, choreographed by Sara Matthews and Leanne King. You can tell Jake is a techie:
Stitch kit
Recharger
USB key

Born in Brazil, junior artist José (Joseph) Alves started ballet at the age of 13 at the Adalgisa Rolim Ballet School. In 2007 he joined the Bolshoi Theatre School in Brazil and graduated in 2008. This is his first season with Ballet Black. It was his birthday when we visited, so we helped him celebrate by eating a slice of his delicious cake (not pictured)!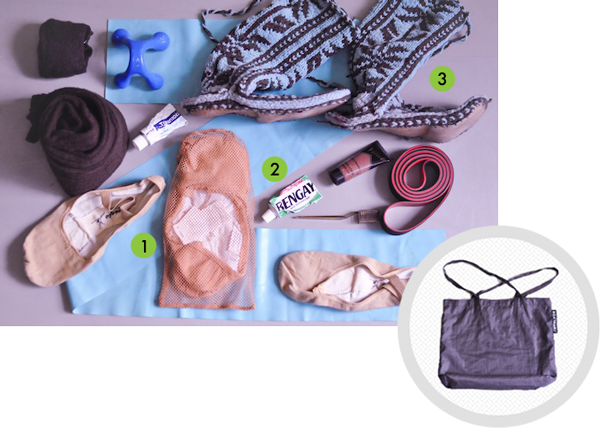 Spare shoes
Pain relief gel
Hand knitted booties

Senior artist Sarah Kundi joined Ballet Black in 2008. One year later, she earned her first Critics' Circle National Dance Award nomination for Outstanding Classical Female Dancer for her stand-out performances in Martin Lawrance's Pendulum and Will Tuckett's Depouillement. We reckon the secret to Sarah's fabulous hair is literally in the bag:
Hair products
Brolly (it's London!)
Snacks
Sayaka Ichikawa was a member of the Ballet Black Associate Programme for several years before becoming a senior artist in 2011. Since joining the Company, Sayaka has featured in ballets by Jonathan Watkins, Henri Oguike, Martin Lawrance and Christopher Hampson. She had, by far, the biggest collection of objects to photograph, so we had to split them into 2 shots:
Green tea sweets
Compeeds
Panadol
Wood lock oil for tight muscles
Cute bag from Chacott
Exercise ball
---
Ballet Black performs Chris Marney's War Letters and works by choreographers Ludovic Ondiviela, Robert Binet and Javier de Frutos at the G-Live in Guildford, Surrey on 6 June. For booking and further information, visit Ballet Black's website.