If you are active on social media, then you already know that ballet on Instagram has become HUUUUGE. Dancers, dance students, photographers, creatives, audience members are happily snapping away and sharing pieces of their ballet-filled lives, and the sheer amount of dance content can make it difficult to pick accounts to follow.
Over here, we must confess we have been late to the Instagram party (currently at 1,3k followers but steadily going up, thanks to you all!), but when we finally decided to focus more on that channel, it was in part because we had been so inspired by these seasoned Instagrammers. So here is Part I of a running list of favourite accounts:
 1) Alice Williamson (@alice.williamson) is a British dancer at Staatsballet Berlin, and also the designer behind dance skirt label Designed by Alice. She is an artist, a photographer, she is a "maker", and her Instagram feed clearly reflects this. Pictures of colleagues modelling her creations (where can we get Iana Salenko's "Rose" dress please?), photography collaborations ("Growing Instructions") and daily life moments that are evocative and distinctive.
2) Craig Hall (@lsweaters) – Craig's feed focuses on people, with a rad mix of street portraiture and fellow dancers at New York City Ballet. His portraits are striking, revealing the mood of his subjects, and featuring recurring characters in different contexts.
 3) Mark Olich (@markolich) – Mark is a Russian photographer who has done fabulous work with Diana Vishneva. His Instagram, however, goes beyond conventional dance photography, with series that depict performances as seen from above, photos from the wings, and edited images that look like Degas-inspired sketches. There are also larger versions of his work (at 500px).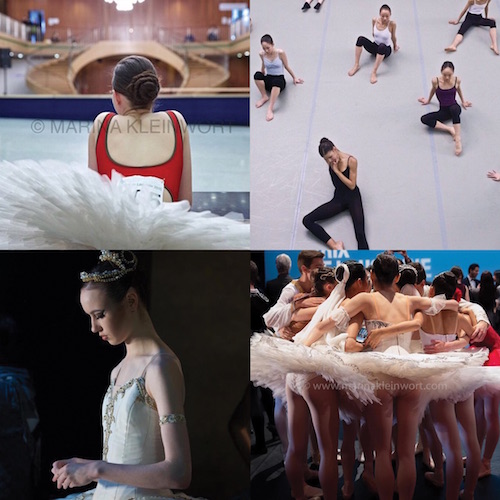 4) Marina Kleinwort (@marinarosek) - We have been big fans of Marina ever since we met her at Prix de Lausanne in 2012. Her feed goes beyond the competition's backstage. Be it at class, during breaks, in the middle of a celebration, or in the wings, her images put the observer next to the participants. Added bonus: getting to meet future ballet stars at the very beginning of their careers.
 5) The NYC Dance Project (@nycdanceproject) is the brainchild of Ken Browar and Deborah Ory. These renowned photographers and editors (responsible for Misty Copeland's popular Degas-ballerina spread) created the account to showcase dancers in New York City. Their subjects are beautifully styled and there is lots of attention to light, makeup & shape. The project is being compiled into a book, coming out later this year.
Do you follow any of these Instagram accounts? Do you have other favourites to recommend? If so, please share them with us below. 
Credits: all photos belong to the Instagram feeds linked to above.